Tauranga drifters competing for D1NZ title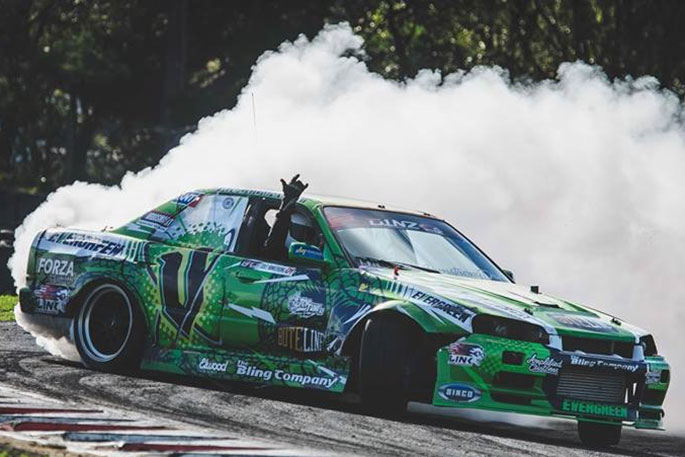 Some of the best competitive drifters in Australasia will be on show in Auckland this weekend, as Pukekohe Park Raceway hosts round four of the 2019 D1NZ Drifting Championship.
The penultimate round of this year's title fight will see drivers return to 'The Home of Drift', where cars will reach speeds of over 200km/h sideways at one of the fastest drifting tracks in the world.
Leading the series standings is Auckland's Darren Kelly, the Nissan R35 GTR pilot holds a 56-point lead after taking another round victory at Hampton Downs earlier this month.
"It wasn't an easy weekend and I owe a lot to my team that helped to get us through," says Kelly, after struggling with gearbox issues during the last two events.
"Along with Cole Armstrong's team and the Rattla Motorsport crew for use of the workshop late into the night, without them and our sponsors I wouldn't have been on the podium."
While Kelly has fought well during competition, both he and his team-mate Cole Armstrong from Tauranga have struggled during qualifying sessions. Armstrong, the current defending two-time champion, sits ninth overall in points after the debut of his new G36 Nissan Skyline at Hampton Downs.
Right behind Kelly is Australian international Matthew Hill, driving the 4mance Automotive Nissan S15. With a third-place finish at the opening round and a second-place finish at round three, the Sydney based pro-driver could cause an upset for New Zealand title.
Hill won't be the only international driver lining up to take on the best of the Kiwis, the 'DriftSquid' Jake Jones based out of Barossa Valley in South Australia will lineup as wildcard entry, driving the Glaore Parts Group Toyota GT86.
"It was 8, maybe 9 years ago when I last drove in NZ," says Jones, eager to be amongst the competition.
"I can't wait to see all my crazy kiwi fans, this is going to be insane!"
There's been plenty of movers and shakers after three rounds of competition, a big threat to the title is Team DSR's Adam Davies (Tauranga) who sits third overall in his 13B Rotary powered 180sx, with drifting aces Daynom 'Slim' Templeman (Auckland) in the ENZED Nissan C33 leading the series standings ahead of Kurt Blackie (Tauranga) and newcomer Jordan Joyce (Auckland).
The weekend's action gets underway on March 30 and 31, gates open from 11am each day with Qualifying on Saturday and the main competition getting underway on Sunday afternoon.
For full event info and ticketing information visit D1NZ.com.
More on SunLive...