Tauranga Crossing includes new Event Cinemas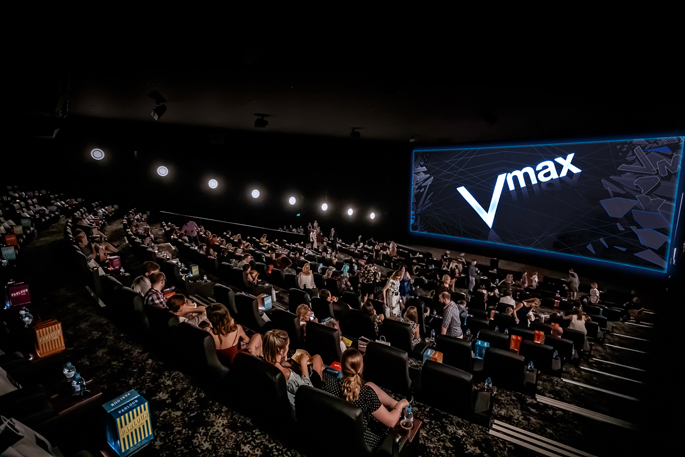 The all new EVENT Cinemas Tauranga Crossing will officially open next week.
Guests will experience six big screens and star treatment with 'Your Cinema, Your Way', where comfort and the experience is in their complete control.
EVENT Cinemas Tauranga Crossing will be the largest cinema complex in the Bay of Plenty region, says a statement released today.
The complex will include the first VMAX screen outside of Auckland featuring a massive 24m wide by 10m high screen, Dolby Atmos sound technology, fully reclining chairs and the introduction of double day beds to enjoy the latest movies, live sports and music concerts.
Movie goers will now have the choice to upgrade their seat in every cinema, from standard seating to full recliners to the new cinema seating experience of the double daybeds.
Standard – Even with the standard seat, the cinema experience has been taken up a notch. Standard seats have been redesigned to provide additional comfort through contoured high backs, side-tables, and double the amount of leg room.
Full Recliners – These signature seats are designed for true comfort. A fully motorised reclining system means guests can set them to the perfect angle.
Double Daybeds – This is the ultimate movie watching experience. Guests can snuggle up and enjoy the movie in their very own daybed, positioned in the front of the cinema for the perfect unobstructed view.
VMAX – Their big screen blockbuster movie experience. VMAX cinemas feature stadium seating with a giant state-of-the-art digital screen and Dolby Atmos sound.
Dolby Atmos – is the latest breakthrough in sound technology that will leave guests on the edge of their seat. With more speakers than ever before sound can be transported to move all around them in a three-dimensional space making them a part of the action. They've never heard anything like this before.
The cinema chain will also be introducing PLAY by EVENT Cinemas, a new look arcade experience featuring all the latest games from around the world.
EVENT Cinemas General Manager for Entertainment New Zealand Carmen Switzer says the company is looking forward to welcoming movie lovers in the Bay, and the surrounding regions, and introducing them to this new movie-going experience.
"We are excited about EVENT Cinemas opening in Tauranga Crossing, which will be one of the country's best cinemas, setting a new benchmark in comfort, design and entertainment experience.
"A trip to EVENT Cinemas at Tauranga Crossing will mean big screens, star treatment, and an amazing food and beverage offering."
Event Cinemas currently operates 20 cinemas (including the new opening in Tauranga Crossing), all located throughout New Zealand. EVENT Cinemas Tauranga Crossing is located at 2 Taurikura Drive, Tauriko, and just a short drive from the CBD, Mount Maunganui, and Papamoa.
Tauranga Crossing is currently home to over 40 retail outlets. On Thursday, April 4, the centre will open with a six-screen cinema complex and approximately 70 more stores, providing more variety and delivering a better shopping experience than ever before.
Alongside the cinema complex, will be a wide range of dining options, and some of the biggest brands the Bay has ever seen.
With easy access and loads of car parking available, Tauranga Crossing will be the pre-eminent retail centre in Tauranga and will become the region's ultimate retail destination.
More on SunLive...