Tauranga's women's shelter due to open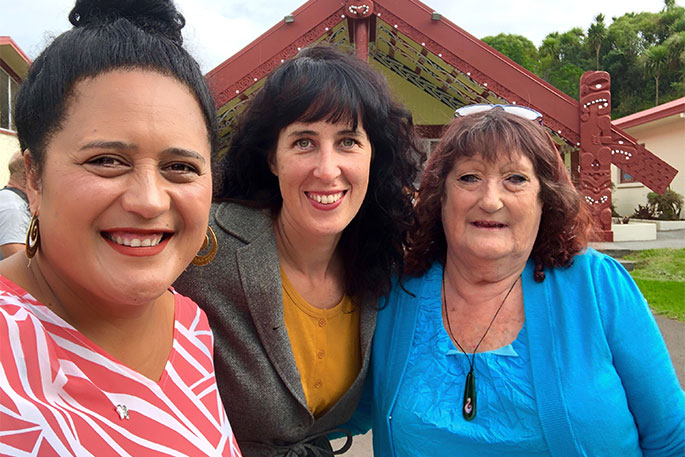 Tauranga's newest women's shelter will be opening its doors in two weeks.
"We're thrilled!" says Angela Wallace, general manager of Awhina House. "We're opening in two weeks, just in time for winter."
Awhina House will open its doors to homeless women on Monday April 8.
"It feels like it's been a long journey," says Angela. "But it hasn't been that long when you think that we started in June last year."
Angela, Tania Lewis-Rickard, Marcia Taikato Whuwhu and Colleen Spiro have spent much of the last ten months working hard bringing Awhina House to life, to help provide shelter for Tauranga's homeless women.
"Finally we're there. Just in time for winter and in time for the bylaw which comes in on Monday next week."
Tauranga City Council's new begging and rough sleeping bylaw will prohibit people from begging or sleeping within five metres of shops in the central business districts of Tauranga, Mount Maunganui and Greerton.
On Sunday afternoon, the organisers ran a Community Angels Supporters hui for volunteers at the Maungatapu Marae.
The purpose of the hui was to outline the various skills and experience being asked for, ranging from cooking meals, providing baking, and helping with sewing, gardening and running programmes.
"The kaupapa behind it is the women will come here, become independent and move into independent housing," says Angela.
"We've got our staff recruited and they're due to start. We're putting the final touches in place, making sure the house is ready for women to move in.
The building, named Awhina House, has 12 bedrooms and is located in central Tauranga. There will be four full-time equivalents, including a live-in house parent, employed to run it.
Many volunteers have given time, funds and resources to help create an inviting home, aided by the team of four putting out a list of needs as the project progressed.
"Mostly everyone's donated stuff, it's been amazing," says Angela.
The main focus for the group now is funding through room sponsorship.
"It's a way for businesses and individuals to contribute to Awhina House for a year, supporting those women who come and stay in a room.
"A number of different women will go through that room. It's not a long term boarding house, but a transitional place where women can have all the support put around them to help them into independent housing."
The Awhina House staff are aiming women to stay in the room for around 12 weeks, however, Angela says there is no set time limit.
"A woman will come in here, she will engage with her support workers, she would be supported around her independence and 12 weeks is the ideal time we would like that to happen. But if it takes longer than that, it takes as long as it takes.
"And if it's quicker than that, then that's amazing. We are going to be doing everything we can to support that woman into independent housing."
More on SunLive...