Fashion with a feel-good factor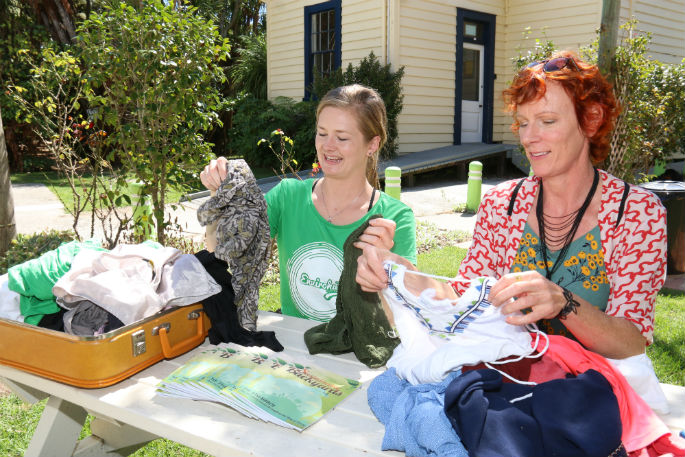 Buying the latest clothes may be fashion-forward, but we're taking three steps back when it comes to pollution.
More than 3.8 tonnes of clothing is thrown out every year in the Bay of Plenty, and on average we only wear garments a total of seven times.
As part of Sustainable Backyards, Envirohub is hosting several Frock Swap events across the Bay in an effort to save clothes from landfill and change up the region's wardrobes.
"People don't actually realise the impact fashion has on the world," says Envirohub projects manager Liesel Carnie. "Fashion is a huge contributor to pollution and, as a whole, is the second biggest polluter for fossil fuel."
One of the simplest and most sustainable ways to give garments greater longevity is to provide them with a second life with a new owner.
"I contacted Kerry Funnell, who is a local fashion designer at the Historic Village, and we brainstormed ideas and came up with the Frock Swap."
The initiative encourages people to bring up to five items that they no longer want or don't wear anymore to swap out for something fun and fresh. The items don't have to be just frocks, and must be in good condition to pass onto others.
Each item you bring will be exchanged for a token, which can then be used to purchase any of the items on display.
"We are really trying to push for people to be aware of that consumer cycle and how damaging it is to the planet," adds Liesel, "especially when it comes to all the processing involved in making these materials. Cotton uses incredible amounts of water and chemicals with pesticides.
"A lot of synthetics are also really bad for the water ways. Then, when you wash them in your washing machine, micro fibres make their way into the ocean."
When purchasing clothing, Liesel says it's all about changing your mind-set and considering the quality of the item, whether it's a style that you will love regardless of the trend or something that you will get good use out of.
"If you are getting those fast-fashion items, they're not normally made to a high standard and aren't designed to last long," she says. "Try and consider quality over quantity.
"If you buy second-hand or not, it's also important to be conscious about how it will look at the end of its life and whether it is compostable."
Liesel says clothing that is made from cotton or linen hemp is compostable, but synthetics go straight to landfill.
The Bay of Plenty Frock Swaps taking place during Sustainable Backyards month are in
Tauranga, on Sunday, March 24 from 1-3pm at The School House in the Historic Village on 17th Avenue, and Katikati on Thursday, March 28 at 6.30pm at the Katikati Community Centre, 45 Beach Road.
For more information on all of Envirohub's Sustainable Backyards events running until the end of the month, visit: www.envirohub.org.nz
More on SunLive...