Rotorua family making debut on our screens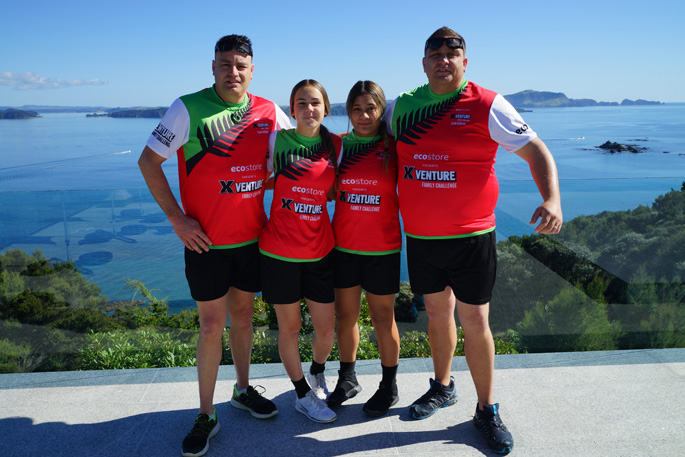 A Rotorua family are set to be reoccurring faces on our TV screens come this Sunday.
The Hemana family are just one out of 16 families from Australia and New Zealand to compete in the second series of the XVenture Family Challenge.
The latest series is hosted by New Zealand's Jason Kerrison and Australia's Ten Network Kate Freebairn who set the families a range of unique, original and diverse team challenges with the goal of the most successful family to win the inaugural XVenture Family Challenge and the cash prize of $25,000.
The Hemana family consisted of Kelly, Kelly's brother Curtis, Kelly's daughter and one of their younger cousins.
Kelly says they decided to put a team together and enter the competition after they saw their cousins from Tauranga take the win in the first series.
"We thought 'what can we do to combat our cousins over in Tauranga', we thought we could represent Rotorua as part of our family and get together and do it."
Kelly says they were all a little bit nervous and scared when they found out they had made it on the show.
They come from three different households, so found it difficult to sometimes get together and practise before they headed up north to Eagles Nest, Russell in the Bay of Islands.
Kelly says Eagles Nest exceeded all of his expectations.
"We didn't realise how luxuries it was up there. I've never been to Russell before. And just going to an area that's nice and quiet in New Zealand, you hear about it but until you've been up there and been to the luxury lodge, it's very hard to explain.
"It's quite surreal being there and being a part of it."
He says they had to do all sorts of different challenges.
"There were physical challenges. I'm a big guy and my brother is a big guy, then we had the young girls to sort of pull us through. And there was mental challenges as well.
"I was leaning on my brother to do that as he's a teacher and knows all the facts and stuff and I sort of felt like I was the glue of the team, just holding it together.
"I recommend that if anyone has the opportunity or the chance to participate go for it because it's one of those things that money can't buy.
"You think that your family unit is very tight, you think that you've got everything down pact but once you get in these scenarios and tested, there are flaws and weaker links."
Kelly says he is excited and nervous to see himself on TV but is mostly excited.
A Tauranga family is also a part of the XVenture Family Challenge.
The XVenture Family Challenge airs on Sunday March 24, at 5pm on Three.
More on SunLive...