Toi Ohomai students cooking up a storm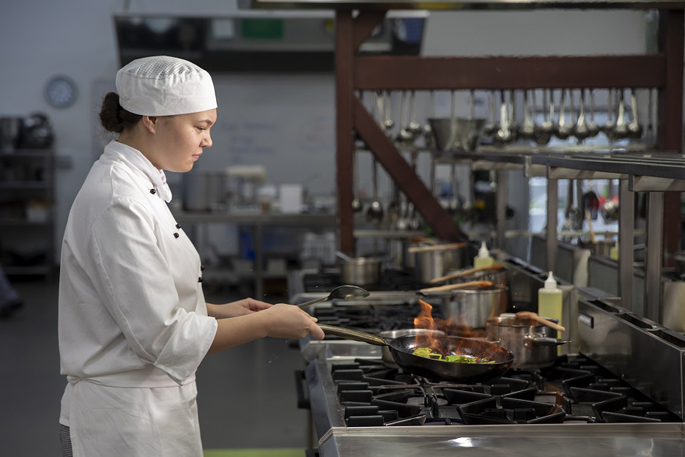 Toi Ohomai Institute of Technology students are participating in a rescued food cook-off today.
The cook off is part of the Food For Thought event, a rescued food festival at Our Place Tauranga.
Renowned chef Peter Blakeway is leading the cook-off, and he says it gives students a great opportunity to interact and work closely with respected chefs in the industry.
"This event is all about the students.
"They're ready for this – to organise, set up the kitchen, cook and plan the menu alongside six of the best chefs in the Bay. They will need to communicate and work alongside experienced head chefs on the day of the event and this will be a great way to showcase the skills that they've been honing for the past two years.
"I'm really excited and proud of my bunch. The group that wins not only would have sold the most food to raise money for charity but will also have bragging rights!"
Not only is the event a great chance to show off their skills, it is serving as an assessment which will count towards their final mark.
"This is an opportunity for us to get the industry to understand what we're doing and the quality of students that come through our culinary course.
"From an industry point of view, they do understand that these students come out being equipped with the right kind of skills that will make them employable and part of that process is putting them out there doing events like this as part of their assessment.
"Industry is not only looking for graduates with just hard skills and knowledge, but also soft skills - communication, speed, teamwork, ability to work under pressure and accuracy. Doing a real-life charity event projects present real pressure and all those skills mentioned will show on that day," says Peter.
Toi Ohomai Culinary Arts student Catherine Papesch is the head chef for the event, and she is pleased with her appointment.
"I love the challenge because it's for a good cause. I love helping families, helping kids for schools, etc. Food rescue is a brilliant idea!
"I'm really excited and I think it could be good for my career, especially getting to work alongside top head chefs from the Bay and Good Neighbour."
As well as being a tutor at Toi Ohomai Institute of Technology, Peter has published a cookbook, and he is New Zealand's only brand ambassador for Everdure barbeque by Heston Blumenthal.
"Being in Blumenthal's team means that I am connected to his team all over the world in Australia, UK and the US – all of which are highly beneficial to students making industry connections worldwide.
"We [tutors] spend every available opportunity to spend as much time in industry as possible so that we are up to date with the current skills and knowledge to help prepare our students for the industry.
"We also work on building mentor-mentee relationships with students that doesn't stop when they walk out of the class as graduates, but is ongoing right to getting them into their next job. I still talk to one of my first head-chefs from nearly 30 years ago!"
More on SunLive...