Kelly takes D1NZ title lead stronger with Hampton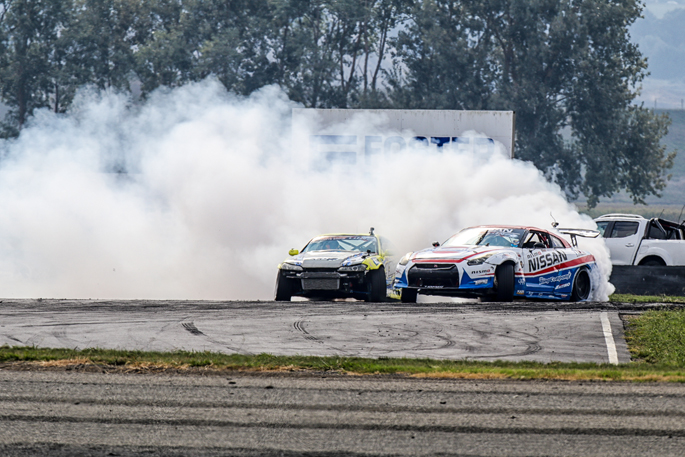 Darren Kelly's Nissan R35 continued dominance in the past weekend's event dubbed 'The Chase' at Waikato's Hampton Downs Club Circuit.
It was a nail-biting door to door round as the showdown went to an Australia vs NZ Final, with Matthew Hill in the 4Mance S15 facing off against Kelly for the top step, Hill taking second in the round and now sitting second in the Galore Parts Group Pro Championship with 188 points – 56 points behind Kelly.
The final saw triple contact between Hill and Kelly with the final nudge spinning Kelly's Nissan R35, the spin deemed at fault from Hill by the judges handing the round win to the Nissan-backed driver.
"It hasn't been an easy weekend with lots of issues and I owe a lot to my team that's helped to get us through, along with Cole's team and the Rattla Motorsport Team for use of the workshop late into the night, without them and the sponsors I wouldn't be on the podium or able to battle Matty for the final spots," says Kelly.
For Hill it was no easy feat with new-comer to the Pro Championship Jordy Cole making it hard for Hill to grab the battle for 1st and 2nd.
Hill made mention of the amazing journey he has undergone so far in three seasons of D1NZ and went on to thank his loyal sponsors 4mance Automotive, CCD and the Sideways Experience Drift School for their ongoing support and faith in him as a driver.
"I really do credit my 4mance team who travel with me from Sydney Australia to each and every round for their hard work and constant support in NZ, as well as my fellow competitors, TJ Motorsport for looking after the car whilst competing in D1," says Hill.
Matt can't wait to get to NZ again soon before heading over to Japan to instruct in the upcoming SidewaysX drift school, from there continuing to represent 4mance Automotive in FD Japan later this year.
Daynom 'Slim' Templeman whom took third and a leap frog to fourth in the Championship also had a strong performance after an overnight engine rebuild on his NZ Motor Oils 2JZ E46 BMW, first racing an OMT with Tauranga driver Adam Davies in the Mimico 180SX. After defeating Davies, Templeman faced Darren Kelly which again went OMT, before an exciting battle for third and fourth against hard charging Jordy Cole.
The Turbosmart Pro-Sport Championship saw new top spot podium-getter with the VIP Care Car S13 of Jordyn Joyce taking honours against another new entering driver in the series, Taranaki's Aaron Hyatt in the Caktus Vape.com Nissan S13.
"It feels good to finally have the car on track, after a few minor issues at Wellington for Round 2. I've finally been able to just drive the car and I'm really looking forward to Pukekohe," says Joyce.
Tokora CDT driver Taylor James worked tirelessly repairing his car after an engine failure the week prior to the event, and went on the beat championship leader Micheal Thorley in the Enzed C33.4.
The Championship now heads to the world's fastest Drifting Corner, referred to as the Home of Drifting in NZ – Pukekohe Park Raceway where drivers reach speeds of 200KPH before initiating the drift side by side.
The series will then finish at Manfeild Circuit Chris Amon on April 26th – 27th
For more information on the series visit www.d1nz.com
CHAMPIONSHIP STANDINGS:
Total Rank Pro
244 1 Darren Kelly - Nissan NZ R35 GTR (Auckland)
188 2 Matty Hill - 4mance Automotive S15 Silvia (Sydney)
178 3 Adam Davies - Mimico 13B 180SX (Tauranga)
173 4 Daynom Templeman - NZ Motor Oils E46 BMW (Auckland)
162 5 Daniel Woolhouse - Century Batteries Ford Mustang RTR (Whangarei)
159 6 Ben Jenkins - Toyotaz Galore 2JZ GT86 (Auckland)
156 7 Andrew Redward - Nankang Tyres V8 FC RX7 (Auckland)
137 8 David Steedman - Mimico Nissan S14 (Tauranga)
135 9 Cole Armstrong - ♚ - V Energy R34 Skyline (Tauranga
118 10 Jordy Cole – Coastal Spa Pools FC RX7 (Auckland)
Total Rank Pro Sport
247 1 Michael Thorley - ENZED C33 Laurel (Auckland)
206 2 Kurt Blackie - Cooper Tyres R32 Skyline (Tauranga)
203 3 Jordan Joyce - VIP Car Care Nissan S13 (Auckland)
198 4 Taylor James - Central Drift Team Nissan S14 (Tokoroa)
194 5 Shaun Potroz - Choice Events Nissan S14 (Taranaki)
154 6 Adam Whitehead - Blacklion Tyres A31 Cefiro (Hastings)
153 7 Andrew Donoghue - HK Upholsterers C33 Laurel (Rotorua)
135 8 Aaron Hyatt 0 Caktus Vape Nissan S14 – (Taranaki)
123 9 Russell Vare - At Pace Solutions Nissan 180sx (Waiuku)
122 10 Matthew Brown - At Pace Solutions Nissan 180sx (Waiuku)
More on SunLive...