Week long battle against wasp nest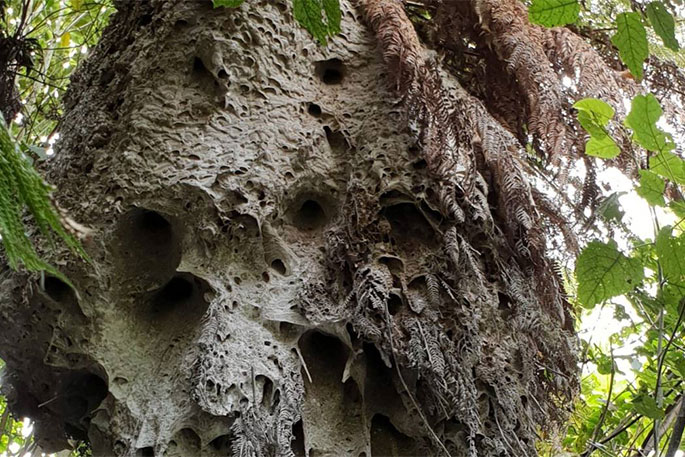 A pest controller with 30 years experience has described his battle against a wasp nest the size of a car - home to at least a million of the aggressive German Wasps.
Bay Pest Services Chris Brunel spent the best part this month attempting to eradicate the monster nest located in bush at rural Hamurana, Rotorua.
He says in his three decades of battling bugs, "I'd never seen one so big".
Chris says the nest is around two metres by two metres, the size of a Mini car, and he believes it would be home to as many as one million wasps.
He believes the nest, which was found around three metres up a punga tree on a steep bank, has been expanding for around two years.
It's sheer size is also what enabled the nest to survive the winter cold.
"When they get that big they generate their own heat."
Chris says another complicating factor in the job is the nest's proximity to the Pukeoroa stream, one of the main streams that feeds Lake Rotorua.
"It's a very pristine environment.
"It's got 5kgs of insecticide dust in it. If that got into the stream it could kill a lot of trout."
Chris says the landowners had fenced off the punga and retaining work would commence to help prevent it falling, and it had been agreed that leaving the nest in place would be the safest option.
"I could imagine the hue and cry if 500 dead trout washed up."
It's a call backed by Bay of Plenty Regional Council land management officer Scott Kusabs.
"There is no need to remove it now," he says.
"Some small bunds have been prepared as a precaution to ensure bits of the nest doesn't tumble down the bank. The nest will be monitored as it breaks down."
He also says he's unaware of any nest of comparable size being found in the region.
Chris says every large scale nest he has encountered has been forged by German Wasps, but they would typically be found in a hole in the ground.
"Fire some insecticide dust in and walk away, job done."
This wasn't like that.
He says the nest's height, and the terrain, made the nest difficult to access, and they had to use extra long "probes" to inject the nest with insecticides - then run.
"They come streaming out."
Amazingly, he only got one sting, though a colleague was stung three times.
He says they wore bee suits, but the stings were able to penetrate when the suit touched the skin.
"It makes you pay attention, that's for sure."
He says that he believes they have finally gotten the better of the pests too, after a week.
"I doubt they're alive now. It's starting to stink."
He likened the odour to sheep manure, a sign of rotting matter inside the giant hive.
Will he ever see another nest on this scale?
"It's hard to say, but with climate change ... "
More on SunLive...