Rob Lemoto says viewers help catch bad people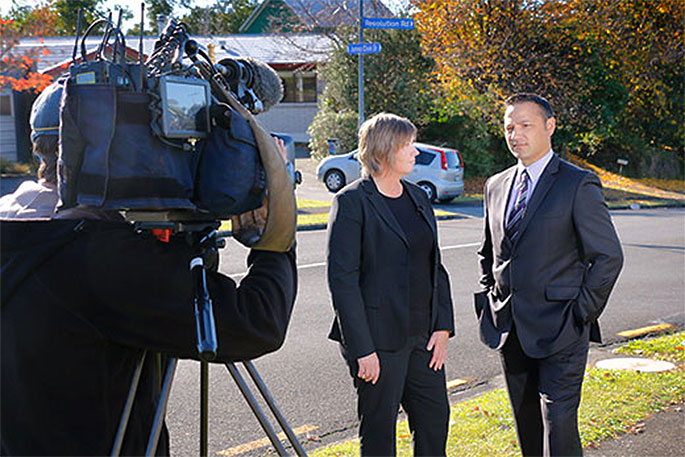 For 17 years, Police Ten 7 has been staple household viewing, providing a window into some of the most shocking and hilarious acts involving Kiwis on the wrong side of the law.
Now in its 26th season, help from the public has meant the show has made many arrests, including more than 50 in the past season.
Fronting the series is Detective Sergeant Rob Lemoto, 44, who also works in the Child Protection Unit with the Bay Of Plenty police.
He talks about his career, what breaks his heart and what he would most likely be arrested for.
What is the hardest thing about being a police officer?
It depends what role you're in. Bad news to families and loved ones is always really hard.
Did you always want to be on TV?
No, not at all. It was an opportunity that came along to try something different. I've worked organised crime, I've worked CIB, community policing, I worked the uniformed branch for a long time.
It was another opportunity that came along that looked interesting but really the drawcard for me was an opportunity to police from the top to the bottom.
I'm lucky I get to work with every district and see how our teams are doing elsewhere. Anything that looks like it might be a bit of an advantage to my home district – because obviously I'm very proudly from the Bay Of Plenty – then I can take it back.
If you were arrested for a crime, what would it be?
Too much talking. Verbal noise pollution probably. I like to have a yarn.
I don't know ... I grew up in south Auckland. I come from a family background where we had a lot of rules around accountability because it was y'know if you're accountable at home then socially you become a better person. When I joined police college I realised a lot of things aren't actually legal, like helping yourself to your neighbours' fruit on the way home from school.
Things you do without any sinister intention ... as you get older you realise actually, 'Nah that's not on'.
What do you like most about Police Ten 7?
I personally like the fact that our viewers help catch bad people. I love that. I'll be honest that's the only reason I put my hand up for that because the show is different for that reason.
You've got thousands of police shows around but we catch people. Last year we had some record-breaking numbers in terms of people helping us catch people and crack cases. It was pretty huge.
How does it feel when you put a case to bed?
It's a result for the victims and there's nothing more satisfying than getting a result for your victims. I think a lot of callers don't realise – we don't always call them back – they don't realise that the smallest piece of the puzzle is sometimes all that is missing. One phone call can make the biggest difference.
Do your daughters watch you on TV?
Sometimes, if they're not training.
What sports do they play?
Every sport under the sun – swimming, water polo, netball, indoor. They study and play sport. They're lucky they've got a lifestyle that's conducive to living in the Bay Of Plenty.
What's your most overused phrase?
Oh heck, a few. I think the phrase I overuse the most is 'seriously'. In work and out of work because I coach sports teams with my kids. I use it so much that they got me a key ring with the word 'seriously' on it. It's like, seriously?
What is your guilty pleasure?
Fishing.
Have you caught anything good lately?
Yeah, absolutely. Snapper have come in now so now's the time for us to fish in the Bay. In saying that I'm not a great fisherman. I know a lot of great fishermen so I cop it in the neck all the time but I'm getting better.
What scares you the most?
I suppose there are a few things. Because obviously with family we deliver bad news to innocent family members. And I think that's why when people see the police they're always really cautious. It's like, 'Uh-oh what's happened?' Delivering bad news to family members always breaks your heart. I'd be lying if I said I wasn't scared of being on the receiving end of that.
What's the one thing that most people don't quite understand about police officers?
That we're people not robots. Inside that police uniform is a person.
Why do you think Kiwis love Police Ten 7 so much?
Because it showcases who we are. I thinks it's just reality and there's always something on there that people cannot identify with but understand because we're a small country and you read about stuff in the paper all the time. You get to see what the teams are dealing with firsthand and that in itself can be addictive.
Police Ten 7, TVNZ 2, Thursday
More on SunLive...