Cory Taylor set to impress at surf nationals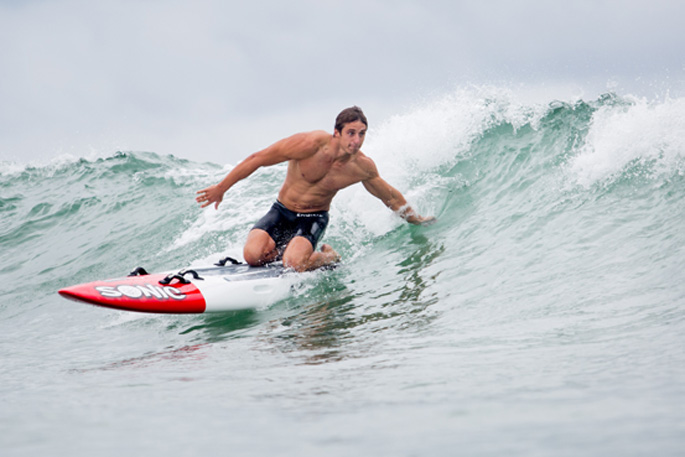 The New Zealand Surf Lifesaving Championships are taking place at Mount Maunganui's Main Beach this weekend.
The event begins with the masters championships on Thursday, followed by the national championships which run on Friday through to Sunday.
The TSB Bank sponsored event is sure to produce some excitement, with some of the country's top lifesavers competing to take out national titles.
Kiwi surf lifesaving athlete Cory Taylor of Gisborne's Midway club is one athlete to keep an eye on over the weekend, in both the team and individual events.
Cory is coming into the national event with confidence after winning a round in the professional Australian ironman series last month, as well as winning the Ocean 6 Series round in Surfers Paradise.
"My goal is still to do the best I can at the individual events but the team stuff takes priority for me.
"I'm lucky enough to be in a position where I can influence younger people in the sport and help them stay in it and that wouldn't work as well if I was to just fly in, do three races really well and then fly out again. I love New Zealand nationals so much and it means a lot, especially after that win, to come home and help keep the sport growing and keep those pathways open to the Black Fins."
Cory has won three national ironman titles since 2014, as well as tube rescues, the run-swim-run, surf teams, six-man Taplin, board relay and the open ski race in 2017.
Cory says each year he is learning to race smarter, and he leans on his Australian club mates Shannon Eckstein and fellow Kiwi Kevin Morrison for advice and support.
"That's something that's definitely changed for me – I'm getting to the age where I'm trying to work out how to make things easier and I've been using Kev to help me figure out smarter ways to train and to race.
"It's hard in surf to see that year-on-year progression because you're never really in control – you may think you're ready for an amazing race but the ocean will always have the last say and you could get hit by three waves in a row and that's you done.
"It's humbling and sometimes frustrating at the same time, that's what makes the sport so exciting."
More on SunLive...