Te Puke meets to show support for Christchurch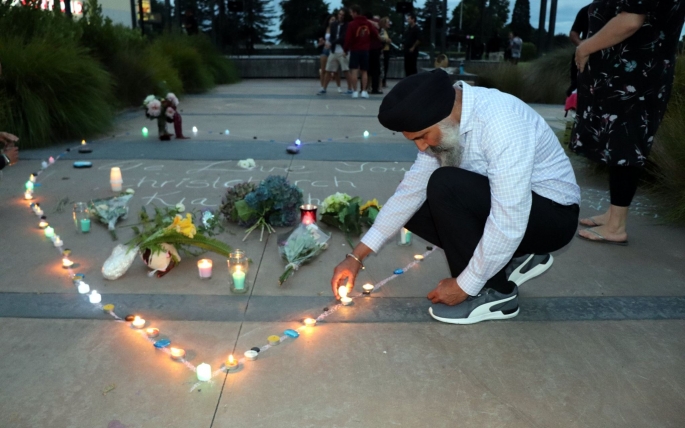 Prayer vigils continue across the Western Bay of Plenty community this week.
Te Puke Anglican Church will host a vigil this evening, Tuesday March 19 at 7.30pm. The service will last about one hour, and provide an opportunity for people to come and pray for the nation and those affected, and light a candle.
On Friday evening from 6-8pm the Sikh community will hold a prayer vigil at their temple in Burrows St, Tauranga.
On Saturday evening the Te Puke community held a vigil in Jubilee Park to show their support and to share in the nation's grief following the tragic shootings in Christchurch.
People started gathering for the 6.30pm vigil, with many placing flowers and candles in a heart outline drawn in chalk on the concrete. Other messages were written in chalk across the pavement.
"The heart was filled up with flowers," says Epic Te Puke's Rebecca Larsen, who helped organise the vigil. "It was really beautiful. People wrote notes and we're going to compile them into a card. We also had buckets for donations."
"The vigil for Christchurch was organised within 24 hours by many individuals from Te Puke," says Monique Lints, who also helped organise the vigil, "as an expression of our solidarity and support to the victims of the shootings in Christchurch and to show our support to our Muslim community in Te Puke."
"A lot of individuals from the local community organisations pulled together really quickly to pull this off," says Rebecca. It meant a lot, as a lot of us work separately in our organisations. It worked out really well."
Col Gardiner from the It's Not Ok campaign led the gathering in a Karakia, with a minute of silence following, providing time for reflection.
Marama Rice sang 'Te Aroha' and 'Tutira mai nga iwi'.
Rotorua MP Todd McClay addressed the gathering. Western Bay of Plenty Mayor Garry Webber was unable to attend but sent a message.
"Unfortunately Carole and I have another commitment so please accept our heartfelt apology.
I commend you for this initiative as there is no place in our community for such behaviours and we must take every opportunity to condemn any person or organisation that supports such thoughts as those we have seen in Christchurch. Nga mihi, Kia kaha," read the mayor's message.
Western Bay of Plenty Councillor John Scrimgenour read out lines from the National Anthem such as 'In the bonds of love we meet', 'Men of every creed and race gather here before thy face, asking thee to bless this place, God defend our free land', and 'preaching love and truth to man'.
Te Puke Community Board member Peter Miller and Labour List MP Angie Warren-Clarke both spoke.
Marama Rice then led the gathering in singing the NZ National Anthem.
Te Puke High School Head Boy and Head Girl, and the high school's cultural leader all spoke, following by Issac Gunson, the ex-head boy of Te Puke High School, who phoned in from Christchurch where he is currently studying.
Karyl Gunn Thomas and Col Gardiner spoke on behalf of Te Puke It's Not OK group, and Chief Glen Williams spoke on behalf of the Te Puke Fire Brigade. The fire station had its flag flying at half mast.
Ministers from Te Puke Harvestpoint church and Te Puke Anglican also spoke.
Donations with proceeds going to the families of Christchurch victims were acknowledged and Rebecca reminded veryone where people can go for support in Te Puke.
"Ring the mental health helpline 'Need to talk' 0800 1737 1737 or text them – 1737,
or phone victims support on 0800 842 846 and these details were also posted on to the EPIC Community Facebook Group," says Rebecca.
Marama Rice closed the gathering with singing 'Welcome Home' by Dave Dobbyn.
"That was really beautiful," says Rebecca.
Harvest Point Church opened its doors to provide refreshments afterwards.
More on SunLive...