'Mowing the Bay since 1988'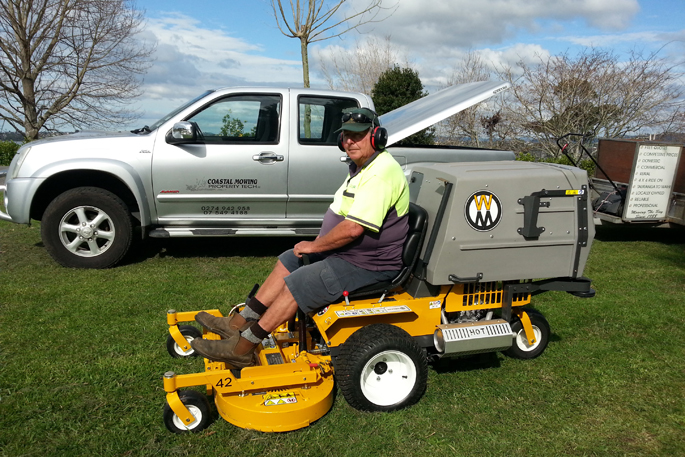 Mowing lawns for 30 years and battling cancer for 25 of those years, still with a smile on his face. That was Bernie Sheddan.
Bernard, more commonly known as Bernie, spent most of his life mowing lawns. A job that most people dread, but he loved it.
Bernie's wife, Julie, says her husband began mowing lawns in his earlier days to fill in time in the mornings as he didn't start his paper run in the Matata area in the afternoons.
"Papers started to be ready around 1.00pm, and he lived in the Mount until this stage, so he started mowing a few lawns in the morning to give him something to do.
"It got to the point where he was picking up more and more lawns, so he got a guy to do the driving for his paper run, then eventually he sold the paper run and he just mowed lawns. It built up and built up."
Julie says the mowing business started up in the late 1980s and they picked up more and more clients through word of mouth.
"We had on the side of our trailer 'mowing the Bay since 1988'.
"We never had to advertise, over time we built up a name."
Mowing lawns is never an easy job, you're dealing with working in different conditions, plus it is very physical, says Julie.
She says it still amazes her how she and Bernie managed to mow for over 22 years, however having a ride on mower for the last 10 was helpful.
For Julie, working with her husband every day was very rewarding.
"We were together 24/7. Worked together, played together, and that's just the way we liked it.
"If we weren't together, then it just didn't feel right."
Bernie was a well-known man across the Bay of Plenty region, and many people were shocked when they found out Bernie had passed away in October last year from bladder cancer.
"A lot of people didn't know he wasn't well.
"I've seen people a few weeks after he passed away and they say 'I've seen him mowing lawns not long before he died!"
Bernie's attitude towards his work and life was based on remaining positive, even when it came to his bladder cancer.
"It wasn't something that was going to get him.
"He had bladder cancer for over 25 years. He had his bladder removed in 2010 which is a major operation, and he bounced back really well from that. He just got on with it."
In July and August, Bernie had three immunotherapy treatments in an attempt to slow down the cancer which was unfunded by the government, costing $9000 for each treatment.
The treatment was unsuccessful and he passed away on 18 October.
For Julie, things have been tough after selling their business Coastal Mowing in September last year, a month before Bernie passed.
Bernie's attitude to life is continuing to inspire her to remain positive.
"I'm just catching my breath."
Julie says there are many ways Bernie can be remembered, and spending years mowing lawns for people around the region is just one.
"He was a real kiwi bloke with a passion for life.
"Bernie was a kind, compassionate man that would do anything for anybody."
More on SunLive...