Red kiwifruit about to arrive on shelves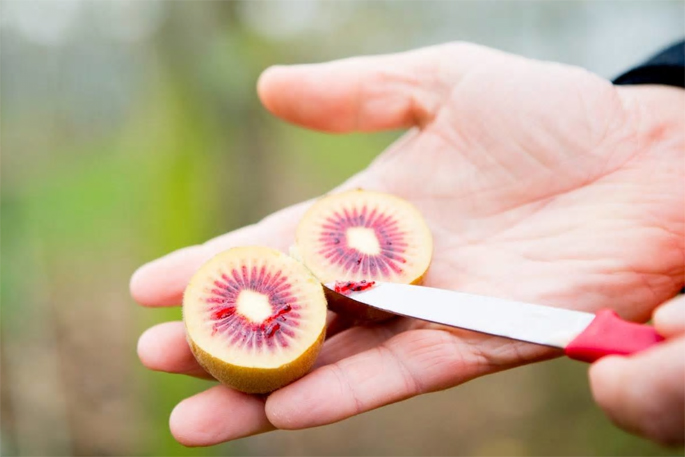 A new red kiwifruit being sold in some supermarkets during the next five weeks is the frontrunner in Zespri's search for a new category of fruit.
About 30,000 trays of the Zespri Red variety, grown on New Zealand orchards, will be sold during the limited release.
The red fruit had a sweet taste, similar to the SunGold variety, with a 'berry twist', Zespri cultivar innovation manager Bryan Parkes says.
The 'vibrant' red flesh came from a unique and naturally occurring pigment, called anthocyanin, within the fruit.
The red kiwifruit trial was causing plenty of excitement on social medial, says Bryan.
"We have to eventually cut through that excitement because we're looking for a long term product."
The supermarket price of the red kiwifruit was up to retailers, but indications so far were they were selling for around $7 per kg.
Zespri and Plant and Food Research started developing a red kiwifruit in 2000, but the first generation was wiped out by the Psa disease, says Parkes. So a second generation that was tolerant to the disease had to be developed.
Much of the planned growth of the industry was being driven by plants in the ground now – or being planted in the next couple of years – that would be coming on stream by 2025.
"SunGold is our superstar of the moment from a cashflow perspective, then eventually SunGold will reach its commercial potential," says Bryan.
While SunGold – a variety or cultivar within the Gold category – was at the heart of the growth planned to 2025, in the long term there was no reason why the Red category couldn't be as big as Gold or Green.
Red was the 'glimmer on the horizon' of what a new kiwifruit category could be. It provided a different 'eating experience' – including flavour, texture and juiceiness – from Gold, which was in turn different to Green.
Zespri Red was a brand name that would become associated with a particular cultivar. The red variety being trialled was one cultivar, and there were another 30 at earlier stages of development.
"This is a trial. If this one doesn't work, which it may not, we have other candidates coming through the pipeline looking promising as well," says Bryan.
"The trial is being done at quite a scale. That means we're going to get a robust answer about how it performs, but we don't know how it's going to perform, and whether there are things we need to improve."
So Zespri couldn't make any promises about a timeline for a red variety becoming available.
Zespri Red ripened faster, especially at ambient temperatures, plateaued at lower firmness and was good eating when softer. It should be kept refrigerated, says Bryan.
The new fruit was developed in a partnership between Zespri and Plant and Food Research, and naturally bred from cultivars within the Zespri SunGold kiwifruit family.
Results in 2017/18 show why developing a new category is so important for Zespri's longer term growth. That year, volume of the Green category sold fell 23 per cent from the previous year's record to 64 million. At the same time the Gold category was up nine percent to 52 million trays sold.
The orchard gate return per hectare was up 12 percent for Green to $59,981, while for Gold it rose 16 percent to $114,345. Zespri global kiwifruit sales were up six percent to $2.39 billion. The company's goal is to increase global kiwifruit sales revenue to $4.5 billion by 2025.
In the 2017/18 review, Zespri chief executive Dan Mathieson described the SunGold variety as a 'game-changing product'. SunGold was expected to drive growth and was likely to overtake Green in its share of the Zespri portfolio in 2018/19.
The company was committed to innovation to develop new game-changing kiwifruit, including green, red and novel varieties, says Dan.
The Gold category overtaking Green was 'quite a changing of the guard', says Bryan.
"Green has been the platform of the entire industry by things are evolving."
The review says Zespri's new cultivar development programme was its largest investment. The world's largest kiwifruit breeding programme, in partnership with Plant and Food Research, aimed to develop a portfolio of products.
During 2017/18 more than 100,000 seedlings were evaluated, and more than 240 promising varieties were in stage 2 trials around the country.
"We progressed two new red varieties into pre-commercial trials. New cultivar development is a long process and we aim to accelerate the pace at which new varieties can be developed," says the review.
More on SunLive...