Tauranga shows support for Muslim community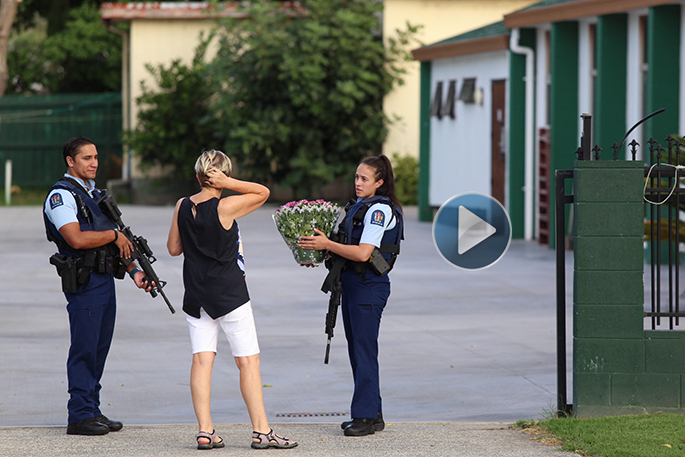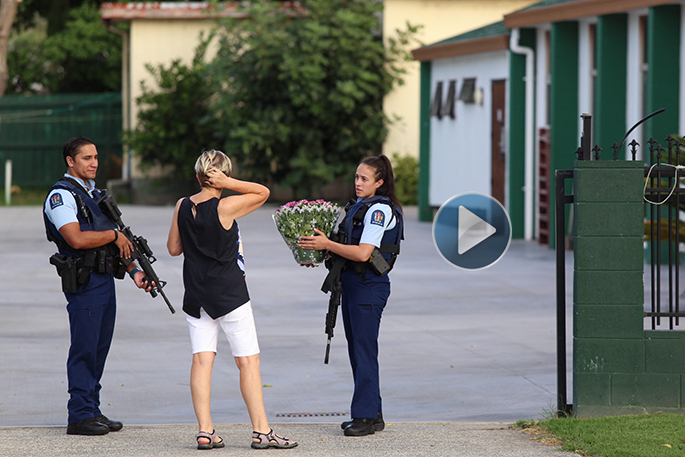 Click the image above to watch the video
Tauranga residents have been showing their support and sharing in the nation's grief this evening, by laying flowers along the front wall of the Tauranga Mosque in 18th Ave.
Armed Police are standing guard outside the mosque following the shootings in Christchurch.
Martin Stewart drove across town from his home in Otumoetai with flowers from his garden and spoke to SunLive, the emotion in his voice barely contained.
"I just thought that they're part of what makes this country," says Martin. "I think it's just the thing to do, to bring them flowers."
Tauranga resident Imran Shaikh was visiting friends in Christchurch last week, and was shocked to hear what had happened there today.
"I called my friend to find out if he was okay," says Imran. "He couldn't attend the prayers at the Christchurch mosque today, luckily."
Originally from Bangladesh, Imran is Muslim, and has been living in NZ for 18 years, working as a computer system engineer.
"I made the right choice coming over here because this is one of the most peaceful countries in the world," says Imran. "We don't have gun-related issues, although we have a little bit of drug-related issues.
"Today, when the shooting happened, I was tied up at my work, that's why I couldn't attend the Friday prayer which is very significant for us. And suddenly I started getting calls from my friends back in Bangladesh.
"A close friend who lives in Canada, he actually messaged me on Facebook saying 'hey are you ok?' I didn't realise what was happening until then. I opened Facebook to see his message and then got to know. A friend in Pennsylvania messaged me. My family have been messaging me. My friends in Bangladesh have been messaging me.
"They are quite shocked," says Imran. "They had no idea that NZ could have something like this. They've never heard of this sort of thing before. All they've heard about NZ is peaceful, green, the land of the white clouds, as simple as that.
"For me personally it was quite horrifying. A lot of people have actually posted some footage from the CTV cameras. I blocked them. I put up a post myself saying 'don't share that video.' "
The Friday prayer at the mosque, called Jummah, is a significant one for the Muslim community. Also known as Jumu'ah, Friday Prayer or Congregational Prayer, it is a prayer (ṣalāt) that Muslims hold every Friday, just after noon.
"In summer time we start it about 1.45pm until 2.30pm,"says Imran. "Winter time is when the daylight saving has ended so we start it one hour before. From 12.45pm to 1.30pm. That's once a week.
"In Christchurch, even the tourists must have known about Jummah, because that's a big gathering. I've read that there were about 300 people present in the mosque at that time when they started shooting.
"One of my other friends, he called me, and said he'd just got out ten minutes before the shooting took place. He was really lucky."
Imran lives near the Tauranga Mosque and was very touched by the flowers that local residents have been leaving.
"This is what makes New Zealand so special," says Imran. "I have plenty of friends from Punjab, Hindis, Jews, German, British, Chinese, from Bangladesh. I'm really touched by the gesture of the people here, what they have done."
"We're all part of this country, whether we're Muslim, Sikh, Catholic, or atheist,- we're all together, we're what makes up this country," says Martin.
Police have asked all mosques nationally to shut their doors. Police Commissioner Mike Bush will speak to media at 9pm this evening to provide an update on the serious firearms incident in Christchurch.
More on SunLive...