Gran on trial for hot car baby death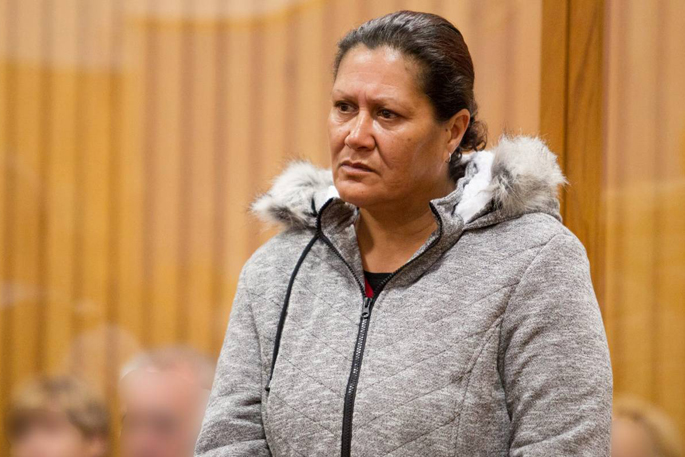 A High Court jury has been told about the panic that gripped a family when they realised their baby had died, allegedly as the result of being left in a hot car for hours.
Donna Catherine Parangi, 54, is standing trial in Hamilton where she faces a single charge of manslaughter. She has pleaded not guilty.
Her grandson, eight-month-old Isaiah Neil, died from heatstroke after being left in the car for about three hours outside her home in Rūātoki, in the Eastern Bay of Plenty, on November 2, 2015.
The Crown case, led by Richard Marchant, alleges Parangi is partly responsible for his death.
Donna is being represented by Susan Gray and Julie-Anne Kincade, and the cause of the baby's death is being disputed.
Two of the key witnesses for the Crown are Isaiah's parents Shane Neil and Lacey Te Whetu, who is Donna's daughter.
The pair, who were living with Donna at the time, have previously pleaded guilty to their son's manslaughter - a fact the jury have been made aware of.
Donna and Lacey were addicted to synthetic cannabis and all three had allegedly been smoking it that day and were allegedly in a state of extreme drowsiness as a result.
The second day of the trial began on Tuesday with Shane giving evidence on his account of the events of that day.
He had awoken mid afternoon and - at a time he believed to be about 3.30pm - had gone out to the car to find his son inside.
The doors and the windows of the vehicle were closed, however he was not sure about the sunroof.
"I can't be 100 per cent sure, but I remember it being closed."
The car was "very hot" and, concerned for his son's welfare, he brought him into the house, and laid him on a bed in a bedroom. He put his ear to his son's chest to check his heartbeat.
"I was concerned as soon as I got him out of the car. I was unsure how long he had been in there."
He woke Lacey and she placed the baby in a cot.
Shane says he was still badly affected by the drugs and was very drowsy throughout the incident.
He went back to sleep but awoke later to find his son very unwell in the cot, with a blanket covering him.
"He was hot and sweaty. Wet.
"The blanket was doubled or tripled up on him, which I thought was ridiculous, because it was a hot day.
"He was saturated ... lifeless."
He woke his partner and the two of them took the baby to a bath, sprinkling water on him in an attempt to cool him down.
Soon after that the little boy's body went cold.
"[Lacey] went into a full panic state. I think we knew then that he was gone. It was the most I have seen anyone panic in my life. She was grabbing his body. Trembling, screaming, out of control."
Some time later an ambulance arrived and after working on the boy the paramedics pronounced him dead.
"I said we had failed."
"In what sense? How?" Richard asked.
"As parents," Shane replied.
The baby was found to have bruising to his forehead, left side of his body and his abdomen, as well as a bite mark on his right elbow. Shane says he had no idea how those injuries occurred.
Under cross examination from Susan, Shane admitted he was so "stoned" from the synthetics he had smoked that he had trouble staying awake, even after his son had been pronounced dead.
Susan also queried his recollection of events as well as discrepancies in various statements Shane had made to the police, including omissions that he checked for his son's heartbeat in earlier statements.
The trial, before Justice Sally Fitzgerald, continues and is set down for three weeks.
More on SunLive...