Waihi councillors aim to stop period poverty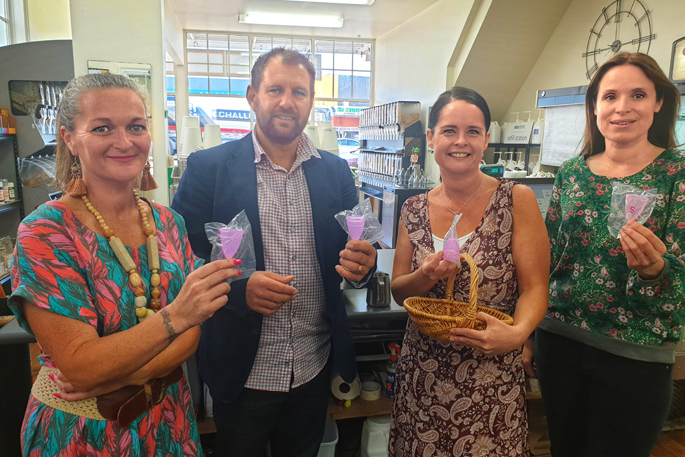 Period poverty will hopefully be a thing of the past in the Hauraki district.
Waihi Ward Councillor Anne Marie Spicer says when she heard about the plan to end period poverty, she had to get behind the idea.
"I heard about this great thing some local businesswomen were doing and I knew it was exactly the kind of project the council would want to support."
The Sustainable Pantry, a local Waihi business set up by Rachel Payne and Rebecca Cullimore specialises in eco-friendly and waste free products, such as menstrual cups.
Traditional sanitary products produce large amounts of waste over a woman's lifetime, therefore selling a product that can be reused and lasts for years encouraged Rachel and Rebecca to make them available at their store.
"We were aware some young women were missing school during their period because they couldn't afford to buy traditional sanitary products, and we knew the upfront cost of a menstrual cup would be too expensive for many, so we made them available at our shop for a gold coin donation" Rachel says.
The cups proved to be a success, so Anna Marie insisted the pair apply for funding from the council to purchase more.
Deputy Mayor Toby Adams says it was an easy decision for the council to approve funding for 250 more menstrual cups.
"I don't think there was even any discussion. It was one hundred percent yes from the council that we get behind this. Poverty is real in our towns. Waihi and Paeroa have some of the highest levels of deprivation in the country.
"Blokes tend to run as far as they can when they hear about periods, but at the end of the day they're as natural as breathing for women, and having access to sanitary products is essential."
Toby says the council is also keen to support Rachel and Rebecca's future plans to make menstrual cups available at local schools.
"This is a fantastic way that is better for the budget and environment. People want to reduce waste, help each other, and look after the planet.
"Well done to the Sustainable Pantry for providing alternatives and option, we're behind you all the way."
More on SunLive...