Boy killed by boat propeller in Coromandel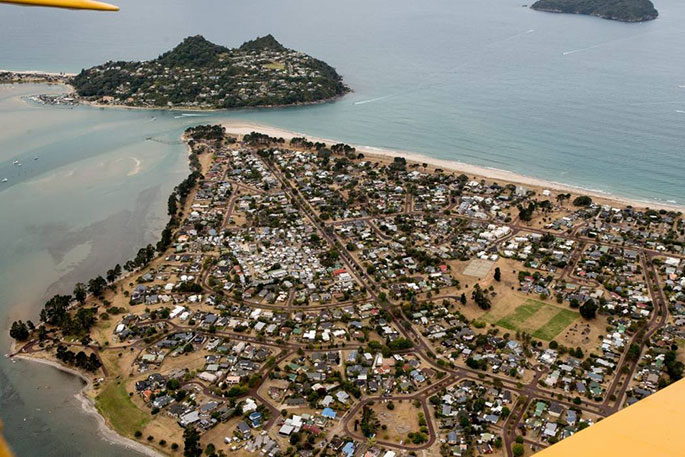 The teen killed and his friend left seriously injured in a Pauanui boating accident were thrown into a propeller when the boat towing them was spun by a wave.
The pair of teenagers were on a sea biscuit when a wave crashed onto the boat towing them.
The boat spun upon impact and both boys were hit by the boat's propeller, according to Auckland Westpac Rescue Helicopters.
A 13-year-old boy died in the incident at about 3.50pm on Sunday.
His 16-year-old friend suffered multiple lacerations and was flown to Waikato Hospital in a serious condition.
The family - who were in Pauanui at the time - were absolutely devastated, says Detective Sergeant Paul Slater of Waikato CIB.
Family living overseas were being notified on Monday.
Two people visiting Pauanui from Auckland say they saw the group having fun with the boat with biscuit before the incident.

The couple, who didn't want to be named, said they were leaving the beach when they saw the ambulance but they didn't realise there had been an incident.

"We saw them hooning around beforehand. It just looked like they were having fun," the woman says.

"We commented at the time it was unusual to see the boat and biscuit in the ocean, we thought they would have been in the estuary side."

They described the waves being fairly rough but they weren't in anyone's way and were beyond the breakers.

At the time of the incident, they said there would have been about 20 people on the beach.
Local off-duty lifeguards were involved in the rescue and support was being offered to them, says Chris Emmett, Surf Lifesaving NZ eastern regional manager.
"It is really tragic."
Sea biscuits are often used in the area and there are rarely any problems, says Thames-Coromandel District Mayor Sandra Goudie.
Goudie didn't know any of the families involved, but said her heart went out to them.
"It's just horrific. This is absolutely tragic."
The teen's death will be referred to the coroner.
More on SunLive...