Missing child cold case reopened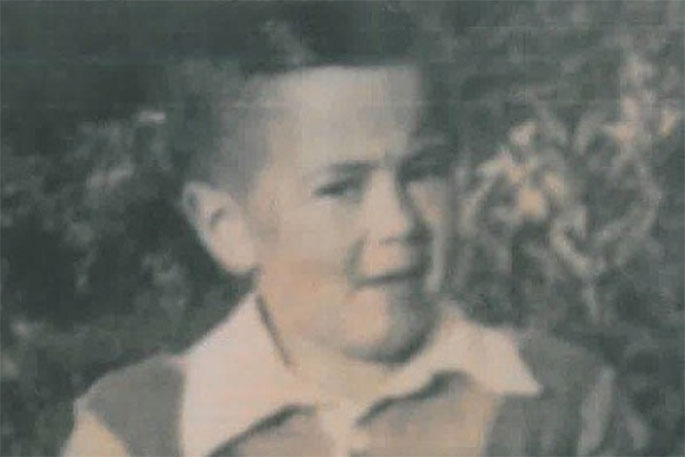 A six-decade-old cold case into the disappearance of a young boy has been reopened by police.
Peter Boland, 9, went missing in August 1957 while holidaying at a Waioeka Gorge farm in the Bay of Plenty region.
He was reported missing by four men who were at the property, three of whom are still alive.
Now aged in their 80s the men say the Auckland boy went missing on the morning of August 31, 1957, while he was out looking for missing horses near the farmhouse.
The four men are Ken Woods, his brother-in-law Arthur Brasting, and Peter Innes-Smith. Les Smith, a friend of Arthur's, died in 2015.
A media report from the time said the disappearance "completely mystified the large force of searchers who came from far and near to assist in the search".
The photographic article reported Peter had travelled up part of a hill with Ken when they saw a horse.
"He [Peter] was told to return down hill and inform Peter Innes-Smith. Although Peter Innes-Smith was only a few hundred yards away and the track is a good one he was never seen again."
It is believed the path Peter would have taken went into a gully and across a river which was extensively searched.
The cold case featured on TVNZ's show Sensing Murder.
As part of the programme Arthur gave his account of what occurred the morning Peter went missing.
He says the four men had taken Peter to find some horses which had gone missing.
They split up but were not far apart. When they located the horses Peter was sent as a messenger to inform the other group they had found them. It was the last time he was ever seen.
Arthur says there was a thick fog in the area at the time.
They learned Peter had not met up with the other group and they thought he had gone back to the house.
"We didn't think much of it," he told Sensing Murder.
"Kids wander off to do their own thing so we took the horses back to the house."
When he was not at the house they started to search and became more concerned.
"We searched everywhere and couldn't find him anywhere," says Arthur.
The alarm was raised about 11am with 150 volunteers searching over five days.
Arthur could not recall who raised the alarm and TVNZ reports there is no police report on file for the incident.
The search was extensive.
"We had enough people to virtually hold hands and cover every inch of ground that needed to be covered," says Arthur.
As darkness fell Arthur and the others lit a fire in the hopes Peter could see it but he never came out of the bush.
Detective Sergeant Rob Lemoto confirmed police were making enquiries into Peter's disappearance but would not comment further as it was an active investigation.
More on SunLive...