Chinese cool with Kiwis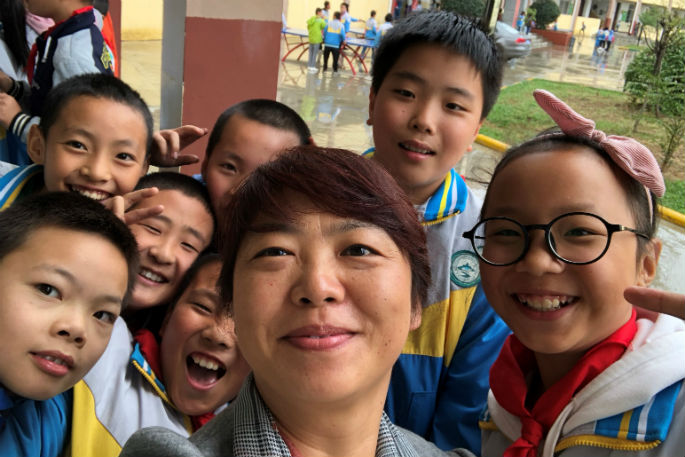 New Zealanders tend to get upset when another country claims something that is ours as their own. Take Phar Lap, the legendary racehorse.
Many Kiwis believe his nationality lies with us, however he is known as an Australian horse.
However, many are not aware that New Zealanders have stolen a Chinese treasure, the Chinese gooseberry - known to us as kiwifruit.
Katikati resident Hellen Faulkner travels to a China frequently to learn about kiwifruit production. She also teaches English to students based in a rural village.
When asked if the Chinese resent New Zealanders for taking kiwifruit and making it a national icon, Hellen says they don't mind at all.
"The Chinese nature is around peace and sharing," says Hellen.
"If you've ever been to China, you will always feel welcome. They share the most delicious food with you and the most precious thing they have with you, like the room in their house.
"They wouldn't hate or resent Kiwis, or say 'hey, you guys took our Gooseberry and made it your kiwifruit'."
Hellen says she has been to China six times in the past year, where she engages with kiwifruit workers.
"Every time I have been to their orchards, they always admire Kiwis for how well they grow kiwifruit.
"It's natural for Chinese people to be like that - we are the nation that likes sharing. It's a very important thing for us.
"We always admire people that take something and make it better."
Hellen says despite kiwifruit originating from China, the fruit are much better suited to growing in New Zealand's environment.
"Our soil here is a lot richer because New Zealand is based on a volcano. In China, the soil has been there for hundreds of years, and it has been used over and over again. The farmers haven't been nurturing the soil.
"In China, when you walk through the orchard there is no grass on the ground. They believe grass takes up water and takes things out of the soil, and they want to keep all of the nutrition for the plants.
"Sometimes they put some strange chemical spray on the fruit so the fruit can grow bigger - however, it tastes no good. Consumers realised this so they refused to eat them."
Hellen says that New Zealanders are paving the way for natural growth.
"The Chinese have a lot of respect for Kiwis who do things properly and do things right. That's what farmers from China can learn."
With a shortage of kiwifruit workers in the Bay of Plenty region, Hellen is coming up with a proposal set to benefit both New Zealand and China.
"In the Bay of Plenty, in this particular season of March-June, there are a shortage of fruit pickers for kiwifruit," she says, "and we have made a proposal for the New Zealand government.
"If we could bring some kiwifruit farmers over from China for two or three months, who already have a general knowledge of how kiwifruit works, they could learn the natural way to give them a feel of what a New Zealand orchard looks like."
Hellen says that Chinese kiwifruit workers would benefit massively if they were to come to New Zealand to see our practices and get hands on experience.
"It would benefit both countries, because we grow during opposite seasons. In China now it is winter and farmers have nothing to do. They could come to New Zealand, work here and help with the labour shortage for three months before they leave.
"They can take some good ideas back to their own orchards, and learn that maybe it is okay to grow grass, and maybe it is okay to have bees to pollinate. It's the small things that will help them."
Although Hellen is in the early planning stages, she hopes a number of Chinese farmers can learn English over the next year so when they come over to New Zealand, they can become more involved in the agriculture process.
"We want to run an education programme as well, to upskill the farmers," she explains.
"It's just in the planning stages at the moment, but we do believe it could be a win-win situation and benefit both countries."
More on SunLive...