An encounter in Matapihi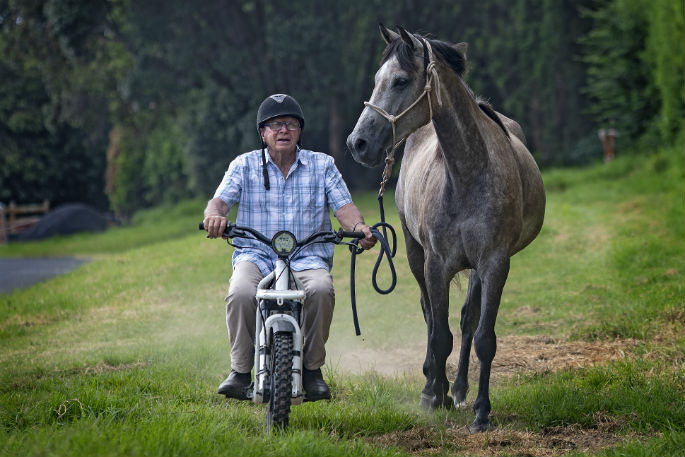 Why would an 80-year-old go out and spend $5000 on an Arab horse called Arlo with any intention other than to ride it?
The question was asked by someone who's never been on a horse and out of deference to Colin Bendall's four score years.
But it was obviously a dumb one and not well received – perhaps with equal amounts of umbrage and confusion.
"Do I still ride? Well, that's the reason I bought the horse," is his response. The question wasn't ageist, just ignorant. And after all, only moments earlier, I had watched him 'hooning' around the family's Matapihi estate on his little electric motorbike.
When I suggested he might be a menace on the machine, he explained indignantly: "It can only do 50km/h."
It probably just suggests that Colin Bendall does a lot of living and has a lot of living left to do. After all, his daughter says he's under strict instruction "not to pass" for a long time yet.
The Weekend Sun met Colin Bendall on Matapihi Road. He was on his bike and Arlo was trotting alongside. It was one of those slice-of-life pics that urbanites find quaint, but is an everyday occurrence for people of the soil.
He was taking Arlo to finishing school at the time. "I suppose you could say that," he says. Friend Alana Meredith is teaching Arlo 'discipline' and 'technique' so that he'll responds to the rider. "It's probably more than what's needed for riding normally," says Colin.
Arlo is as nice as his owner is venerable. "He couldn't be better. He's good natured and just a pleasant horse." Pleasant as in "giving of a sense of happy, satisfaction or enjoyment. Friendly, considerate likeable." Isn't that about as nice a thing as anyone can say about you?
"Strangers can approach him and he will just nuzzle them. A lot of horses, if they don't know you, will back up a bit, but not this one."
Arlo is of the Arab breed, easily recognised for their distinctive head shape and high tail carriage. And at a time when horses like him are fetching $20,000 overseas, Colin got Arlo for just $5000 - something to do with a dicky foot.
It was never established how or why. It's since mended, but fortunately for Colin, and probably for Arlo for that matter, he missed the boat. They're now a team.
Colin Bendall has been etched into the Matapihi Peninsula landscape. He's been there since 1972 growing meat chickens, kiwifruit and ducks. But the kinship is with horses. "I grew up in the horse age," he says. I rode them to school." As did his children when they went down the road to Matapihi Primary.
He has a chemistry and an empathy with horses. When he bought Diesel – that's Diesel the white horse which starred in Tom Cruise's $140 million dollar period action drama The Last Samurai – he changed its name.
"It was too nice a horse to have a named like Diesel," he says of a name perhaps more befitting a dog with bad rap and wearing a studded collar. "It just didn't seem right. I wanted a name that sounded similar but had nothing to do with fuel."
He pauses to reflect on a horse that is no longer with us. "I was quite fond of that horse." As fond as he now is of Arlo, and perhaps as fond as he is of rugby.
Colin has been to every Rugby World Cup finals since the competition began in 1987, and he will be in Japan later this year. "The All Blacks have to win," he says. "They let me down once." It was 2007, and France sent New Zealand home at the quarter-final stage amid a whole lot of bleating about unsighted forward passes. The indignation lives on for Colin and the whole country.
But the Rugby World Cup is down the road. "Riding horses is more important right at the moment," he says. "Riding Arlo on the harbour flat when the tide's out, when you can almost throw a stone onto The Strand, is cool," says Colin. He lives in the country, but can see and smell the city.
This chicken-raising, kiwifruit-growing, duck-farming horse lover also plays the bagpipes, and met his late wife, a Te Puke girl called Dorothy, on his first band parade. He played in the Tauranga Highland Pipe Band with a certain side drummer called Brian Rogers before he became a newspaper hack. Colin with his horses and Brian with his rabbits.
An Eltham dairy farmer taught Colin how to play the bagpipes. Figure that. He doesn't play anymore, but his chanter is handy if he ever gets the urge.
Isn't it fascinating who you can meet and what you can learn if you stop for a photograph and chat? The whole experience can be like Arlo – very pleasant as in "giving of a sense of happy, satisfaction or enjoyment".
More on SunLive...