Bruises behind the beauty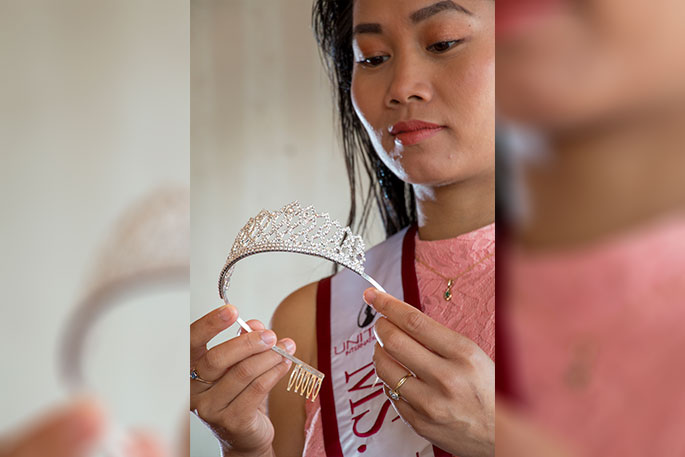 Lin Keo needs no introduction to how hard life can be.
You may remember her beautiful smiling face walking down the catwalk draped in silks, or you might recall her passing you your daily caffeine intake.
Best-known for her Ms Earth New Zealand 2016 title and her past job as a barista, the Tauranga local used to live on the streets.
The 37-year-old says she lived on the streets of Cambodia until the age of four, where she had to fight for scraps of food left by street eaters.
She recalls sleeping under the stairs of a butcher shop without any blankets or clean clothes, being beaten by people and bitten by disease-ridden dogs.
"I have a very vague memory of living on the streets, but I get flashbacks sometimes and I feel the pain and the emptiness."
Lin's mum was a housekeeper for prostitutes in a brothel and her dad was a soldier. They were not allowed to get married and he died at war before Lin was born, forcing Lin and her mum to find refuge on the streets.
She says sometimes she sees kids playing with their parents in New Zealand and craves the connection that they have.
"I've never had that feeling of love and protection from my parents," she says. "I rarely see my mum now and I still don't have that relationship with her.
"Phnom Penh is not like it is here, where there are governments, substitutes - even foster care is better than what I was used to. We just had no support and my mum did what she could."
Lin says one day, when she was on the streets, she hadn't eaten in about three days and spotted some leftover food sitting on a table near a food stall.
"I took the food and started eating it, but some other street kids took the food off of me.
"They were bigger than me and they beat me up with their hands to start off with, then their shoes, then nearby chairs and tables and cans and bottles- there was six or seven of them and I had no chance."
When they had finished beating her up, they chucked her in a bin and left. Lin says she remembers coming to the realisation that she was going to die, but she fought against it.
"Some people saw what happened, but they just kept walking," she says. It wasn't until a truck, which regularly picks up street children to feed them, noticed Lin wriggling around in the bin.
"I remember the shadow of the biggest person in the world picking me out of the bin. That's all I remember."
The man took Lin to a nearby orphanage, where she was treated, feed and clothed. She was given a set of clothes once a year, allowed to shower once a week and was fed once a day.
The turning point came when she was eventually adopted by an American businessman living in Cambodia named Tim. He had seven other adopted children, who had all endured rough starts to their lives like Lin.
"I knew he was my blessing," she says. "He always used to tell me he remembered me. 'You're the one with sparkling eyes' he would say."
When she first arrived at her new home, she was in complete shock. She slept on the floor even though there was a bed, and she chose to stay in her dirty clothes, because she didn't want to ruin her new ones.
"For seven or eight-year-old me, everything was completely foreign.
"He bought me tonnes of clothes, but for a long time I didn't wear them. I would leave them on the hanger and just look at them, because I didn't want to get them dirty.
"He also taught me how to dress myself by dressing a doll, so I would dress myself the way he dressed the doll."
Now, some 30 years on, having entered numerous pageants, Lin says she'll never forget where she came from. She counts herself as the lucky one, because she was given a second chance at living.
"Through my story, I want to give hope to all those women out there who are being abused, assaulted or bullied. They shouldn't give up, they can move on from this, and things will get better."
More on SunLive...