Mayor turns off the windscreen washer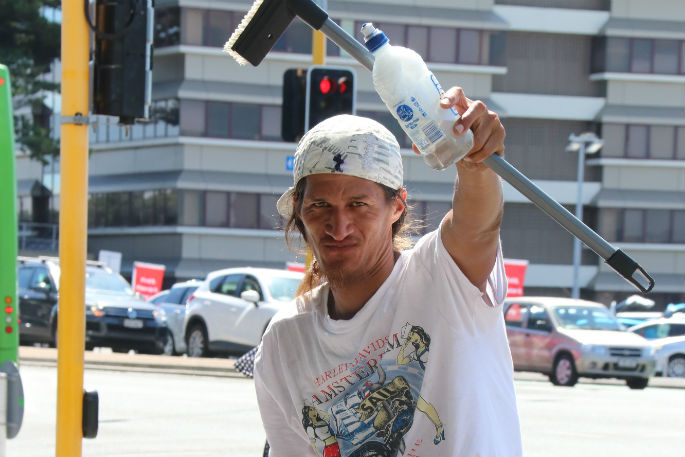 Last Monday no-one knew Shane Taki – he was just some toned, energetic young dude with a bare midriff and back-to-front cap, dancing around the Elizabeth Street intersection cleaning windscreens.
Come Tuesday, after his story went up on SunLive, it seemed all of Tauranga knew Shane. And they certainly had an opinion about his career choice.
Mayor Greg Brownless did, and he was quite blunt.
"Go and get a job picking kiwifruit," was Greg's advice to windscreen washer Shane. And he wouldn't buy into Shane's argument he needed money to eat, that the benefit didn't cut it and that he needed to make extra money without resorting to crime.
"I don't accept that," says Greg. "There's no sympathy from me, none at all. There are plenty of things young people can do to earn money."
When Greg was young he mowed lawns. "But I didn't annoy people," he says. "I didn't try to extract money from them by providing an unwanted service and dancing round an intersection." Besides, he says, windscreen washers are a nuisance, it's a dangerous practice, and sooner or later someone will get run over.
Above all, it's illegal.
Shane told SunLive that he's on the street, has no clothes and is hungry. "I'm on the benefit, but all of it goes out and leaves me with like $40. That does nothing, so I'd rather work and do window washing, than steal and burgle for stuff."
The Mayor dismisses that as an idle threat. "If we all broke the law on the basis of getting enough money to live off, the place would go crazy. It's not acceptable, it's not the way we run society. Society should not succumb to threats."
If Shane took up the Mayor's suggestion and got one of the dozens of jobs advertised in the kiwifruit industry, he could earn $19.44 an hour or $155.52 for an eight hour day.
Let's put aside the right and wrong, the legal and illegal for a moment, and do some sums.
If Shane is constantly washing windscreens at a rate of one a minute for a dollar, he would earn a fruit picker's daily rate in little more than two-and-a-half hours.
Shane would be home just after morning tea time – without the travel hassle, without the weather constraints and no tax. And, of course, there are many motorists who will give two dollars for Shane's services, perhaps even $5. It's a money spinner, a good gig, albeit illegal.
Isn't Shane Taki a young man showing some initiative, and isn't the Mayor just pandering to popular opinion?
"No!" is his response. "It's sensible, otherwise we would have a plague of windscreen washers at every jolly intersection."
Shane's story touched sensitive buttons. Readers forgot capital gains tax and the etiquette of smothering steak with tomato sauce. The Facebook traffic on SunLive's page was extreme in volume. There were hundreds of messages, most of them vitriolic, but some, just some, sympathetic.
"We need to give these underdogs a hand up...they ain't got their hands OUT and as long as they can respect when someone says 'no', then they should be left alone," read one.
"Give without judgement or don't give at all," said another.
But most of the messages were at best critical, and at worst ugly.
"I give him money cos it feels like the right thing to do and he blows it on smokes. Get him off the street," read one.
Then it got nasty, personal and obscene. In the end, the digital component of this story was taken down by SunLive's powers that be.
In the end, what Shane Taki is doing is illegal, and while the police have been vigilant in reminding him of that very fact, Shane, for his part, is defiant.
"I'll tell them they can fine me up, I'll just carry on grabbing fines cause it ain't gonna stop me," he told SunLive.
Meanwhile, Tauranga City Council have issued a word of warning to anyone thinking of following in Shane's footsteps.
"Council does not have powers of enforcement in this case," says Stuart Goodman, Team Leader: Regulation Monitoring.
"Having said that, we do have a strong interest in promoting the safety of pedestrians and road users.
"A situation in which a person is moving between vehicles at a busy intersection is clearly a serious health and safety risk.
"In our opinion, nobody should be in the roadway unless they are crossing the road. We urge anyone who is considering this sort of activity to play it safe by keeping off the road."
More on SunLive...