Sawyer's new lease on life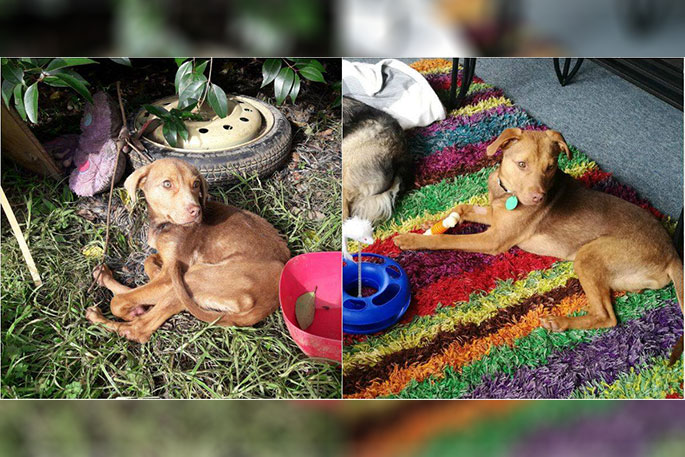 Sawyer's start to life was riddled with loneliness and neglect.
He was left as a tiny puppy, chained to an old tyre in a backyard. He had no food, no water and just a plank of wood for shelter.
When SPCA Inspectors arrived to rescue Sawyer, he was so weak he couldn't even stand. He lay helpless, curled in a ball on the grass, says a post on the SPCA Tauranga Centre's Facebook page.
Sawyer was unable to move because his chain was so tight and his feet and legs were covered in painful, blistering sores from being left on the same spot of dirt for so long.
"SPCA Inspectors brought Sawyer to safety at SPCA where he received urgent veterinary care. He was so skinny his ribs jutted out of his skin and he was covered head to toes in fleas.
"Sawyer wasn't just physically injured. His neglect caused him mental trauma too and he was so scared.
"Sawyer spent time in the canine intensive care unit and for the first few days hid in the corner of his pen, too terrified to move."
SPCA staff sat with him every day, to show him there was nothing to be scared of.
Slowly with time he gained confidence, and was fostered by an SPCA staff member who showed him what a loving home was like.
"Sawyer transformed into a different dog," reads the Facebook post.
"He flourished in a home environment and became playful, cuddly and full of life. It wasn't long before the perfect family was found for him, his new mum fell in love at first sight. He now lives a wonderful life, free from his chain and worries."
You can help transform lives too. Donations can be made via www.spca.nz/transformlives
More on SunLive...