Pulse pull off win in defensive match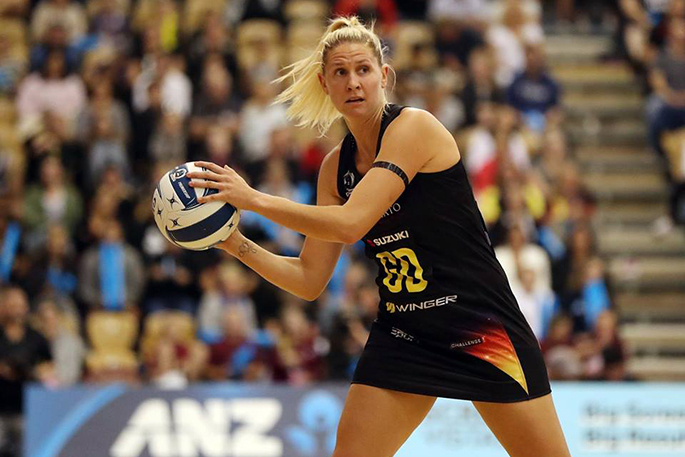 In a defensive thriller, the Pulse have held out a gritty WBOP Magic, 43-37, in the lowest scoring game in ANZ Premiership history in Rotorua on Monday night.
The Pulse, desperate to get back on court after their opening match on Super Sunday, may have looked like they were the dominant side in the final quarter, but the Magic had their moments where they would surge to draw equal or take the lead in the rest of the clash.
Although Pulse goal shoot Aliyah Dunn shot with 96 percent accuracy (25 from 26), it was a game ruled by the defenders, with Magic caption Casey Kopua earning MVP of the match.
In the opening seconds of the game, the Pulse lost Karin Burger with a bloodied mouth, replaced at wing defence with the eager young Maddy Gordon. But it didn't reflect on the scoreboard, with the visitors putting five goals on the board before the Magic even began their tally.
The young Magic attack was unsettled by the defence of Sulu Fitzpatrick and Katrina Rore, but when they fell into a rhythm, and Monica Falkner's shooting confidence grew, it pushed them back into the game – the sides locked 9-all at the end of the opening quarter.
At the other end, Dunn was involved with a ding-dong battle under the Pulse goal with Kopua- who pulled off a spectacular intercept passed back between her legs right on the buzzer, and another early in the in the second spell.
While Dunn found it tougher to put up shots under pressure from Kopua and Kelly Jury, she was faultless, not missing an attempt (a feat she maintained until the last quarter). With sharp feeding by Witney Souness, the Pulse quickly jumped out to a three-goal advantage – a lead they held at halftime, up 21-18.
The Magic brought Beko Netball League shooter Kelsey McPhee into their circle, and the experienced Sam Sinclair (who'd been unwell) for the third quarter. Initially the changes came with good effect, as the home side evaporated the gap once more to sit at 22-all.
Wing attack Simonn Howe showed excellent vision connecting with her shooters, and the Magic snatched the lead halfway through the third spell.
But with Rore and Fitzpatrick all over the Magic attack, the Pulse pulled out to three goals 29-26 going into the final stanza and carried on the momentum to add another four before the Magic replied.
Up by seven, the Pulse showed patience and control to be certain of a second victory.
Official Results:
Splice Construction Magic: 37
Te Wananga o Raukawa Pulse: 43
More on SunLive...