Inspirational rider needs our help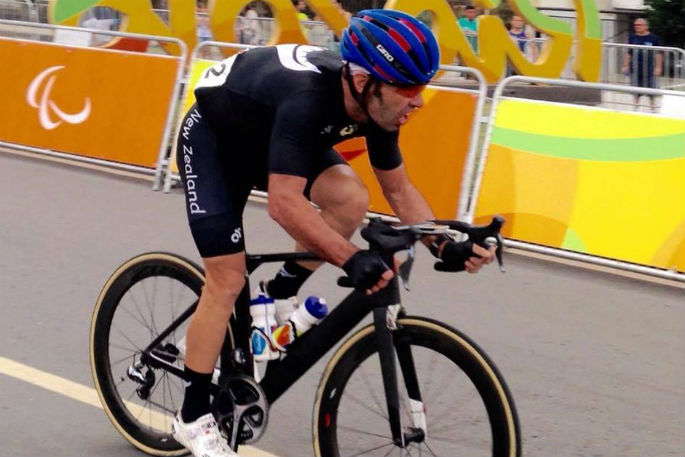 Fraser Sharp has lived most of his life battling against the odds.
The 42-year-old Tauranga Paralympic road cyclist has been living with a personal motto of "anything is possible" ever since an errant driver crashed into him in 1993.
The accident left him as close to death as possible but he survived, and living with a head injury has been a daily challenge ever since.
His sporting goal of wearing the silver fern at the Rio Paralympics was a major goal since he became involved with Paralympics NZ as a grade C3 road cyclist.
But there was crushing disappointment when Fraser was not selected for the Rio games despite winning two national titles at the Club Road National Championships held in Alexandra prior to selections.
Selection came down to a decision based on track versus road cyclists and performances at the world champs. There were only two male spots available.
But his luck changed after New Zealand was re-allocated one more male slot for the Rio Games following the suspension of the Russian Paralympic Team.
With just four days' notice, and three months off the bike, Fraser was finally on his way to Brazil.
He competed as best he could with such limited time, placing eighth in the Men's C3 Time Trial and finishing the Men's C3 Road Race in the bunch.
In 2017, through the help of his supporters in the Tauranga community, Fraser found the funds to compete in Europe in three UCI Para World Cups. He won bronze in Italy in the Individual Time Trial and was top 10 in the Road Race. In Belgium, at the second World Cup, he won a silver medal in the ITT and another top 10 finish in the Road Race.
Later that year at the world champs in South Africa, Fraser's bike was retained at customs for a long period. He got it two days before he was due to compete, allowing him less than two hours practice on the course. He finished seventh in the world, 30 seconds off bronze and had another top 10 performance in the Road Race, finishing three seconds behind the winner.
Last year was a tough one for Fraser. The physical effects of his head injury had worsened, and the lingering disappointment of missing a podium finish in Rio and the effects of the tribulations he faced in South Africa took their toll.
"I went through major depression," he says. "I had put all of my resources and a lot of my life into it and I felt I got the rough end of the stick. I stopped cycling and it was very tough.
"My doctor said to me 'Fraser, you have got to get back on the bike', so I did and was determined to get my life back on track.
"I have the same coach, Rick Reid, and also a coach here in Tauranga called Chris Ginders who have a close connection."
Fraser is back in top form and has reset his goals for Tokyo in 2020.
To get there, he needs a top four finish at key World Cup events in Italy and Belgium in May to qualify for funding by Paralympics NZ and contest the UCI Para-cycling Road World Championships in the Netherlands in September.
To do this, he needs to raise $8000 to get to Europe in May to cover all of his expenses and achieve his goals.
"I am aiming to qualify as long as I can get some support to fund the trip," he says. "It means everything for me."
He has set up a Give A Little Page to assist with the fundraising.
To help Fraser achieve his goals, please visit: www.givealittle.co.nz/cause/fraser-chasing-paralympic-dream-in-tokyo
More on SunLive...