Forestry student numbers grow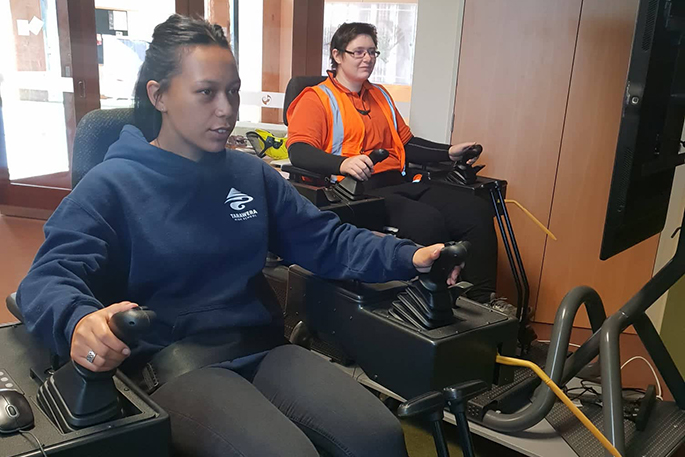 Toi Ohomai Institute of Technology's woodsman course has attracted a record number of students following a shortage of qualified forestry workers.
Forestry operations programme manager Richard Stringfellow is pleased with the number of students participating in the course at an institute such as Toi Ohomai which prepares students for forestry work.
"The course is only offered at our Mokoia Campus and we had 10 students sign up to do it before Christmas. On the first day, all 10 students turned up and even though 70 per cent of them had been living outside of Rotorua, they chose to move here to study.
"The course is highly rated by the industry and students because there is a focus on machine operating and quality control, which are skills that are highly valued."
"Alternatively, those students who are not yet employed know our graduates are highly regarded by the industry so want to study with us due to the employment prospects. Once they're qualified it won't take them long to find jobs and we can make introductions with employers due to our great networks in the industry."
Toi Ohomai gives students hands on experience with simulators on campus.
"Once they get out there, these guys and girls are operating machines so it's good for them to build the muscle memory. With the simulators, they get to practice their skills in the classroom and get used to the controls before they get out there for real.
"The simulators are top-of-the-range and so provide a realistic experience for the students learn from. These kids come with some muscle memory already because a lot of them have been playing computer games since they were little. If they have been playing games, they're used to using controls and developing muscle memory so they're usually naturals on the machine," says Richard.
Student Jayden Pye has relocated from Napier to complete the course.
He previously worked for a forestry company, giving him motivation to complete the course and to take the next step in his career.
"I had been working for a few a months but I'm learning so much from the course. I can't wait to finish and get out there to use my skills.
"I really enjoy getting out on sites and working in the industry."
More on SunLive...