Eye popper appears at The Elms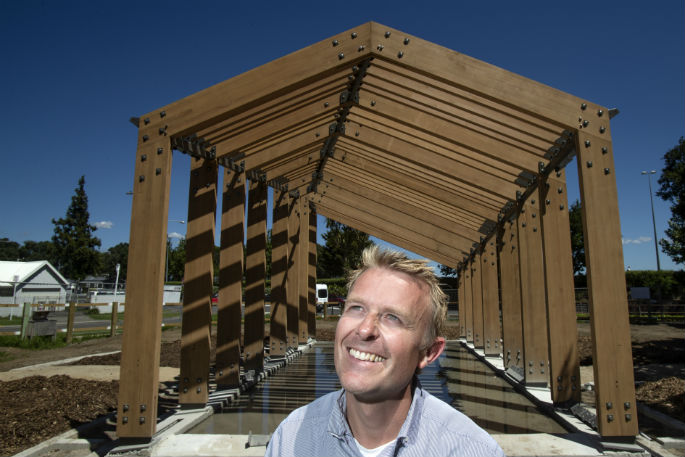 It's quite bold and quite brilliant, and has sprouted from the empty Chapel and Mission Streets corner site at the historic Elms/Te Papa mission house over recent weeks.
The pagoda, or pavilion, at the Elms' new heritage garden is an attention grabber as you sweep round past the Domain and down Chapel Street to the Waikareao Estuary.
"People are remarking on it already," says Elms manager Andrew Gregg. "What an interesting structure, how beautiful it looks. It's been exciting initial feedback."
At 40-square metres, and four metres at its highest point, the structure reflects the architectural styles that are already a feature of the established buildings at the Elms.
The pavilion, constructed with laminated beams, is gabled at one end and evolves intriguingly into a mono pitch at the other.
The front will eventually be adorned with carvings by Whare Thompson, with a floor of patterned granite paving.
The pavilion is coloured to reflect the raupo whare that once existed on the site, when Reverend Alfred Nesbit Brown and his family arrived on their mission to teach Maori about Christianity. It'll be landscaped with trees and grasses.
"I guess it's simply a major enhancement of the site," says Andrew. And an enhancement costing $500,000, with the main funder being TECT.
"It's a centre-piece that provides a place where people can be welcomed, where they can hear local stories about the history of the Elms and important aspects of the Elms. It's a pleasant space for people to be."
The surrounding gardens will be planted with grasses and trees and integrated in the main Elms site as it once was.
The corner site was privately owned until 2012, when the Elms Foundation purchased it back. The Auckland-based conservation architectural firm Mathews and Mathews was commissioned to develop a plan for the Elms site and the heritage garden itself.
"Their brief was to design something that resonated strongly with the site," says Andrew. "I think they have done an extraordinary job."
The Elms heritage garden will be opened sometime in late April/early May. "It's an exciting time for the Elms Foundation, fulfilling the realisation of a project a long time in gestation."
More on SunLive...