An iconic photo of the 20th century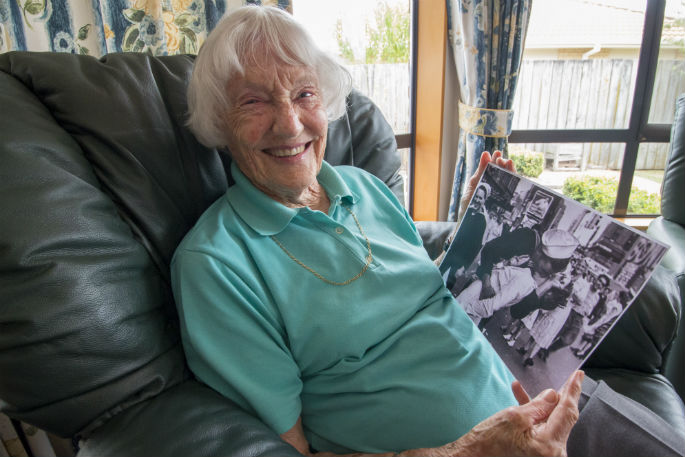 Norma Hollis was weeding the garden the day an assassin's bullet took JFK in Dallas, Texas in 1963.
She also remembers she was in the kitchen of her Hillsborough Auckland home when Princess Diana's car slammed into the wall of a Paris tunnel in 1997, and a modern day fairytale was snuffed out.
They are just two "where were you?" events in Norma's life.
But just as clearly, she remembers V-J Day - Victory over Japan Day – on Thursday, August 15, 1945, when Imperial Japan surrendered in World War II.
"I lived with my parents in Hamilton, and we all walked down Victoria Street shouting and dancing," recalls the 94-year-old.
"That was also the very day my school friend Margaret spotted this very handsome soldier and, ummm, that was it. They cottoned on, got married, had three sons and lived happily ever after."
The Weekend Sun shows Norma a blown-up black and white image taken in New York City's Times Square on V-J day in August, 1945. It's a photograph of a uniformed US Navy sailor grabbing and kissing a woman in a white dress, and it's widely acclaimed to be the iconic photo of the 20th century.
"Yes, it's gorgeous," she says. It brings Norma to tears. "It just shows the joyfulness. Oh dear!"
Norma didn't know the couple personally, but in a way she did. Because of that image, that photo, the whole world got to know the sailor and the nurse. Some 74 years after the photo was taken, it still weaves its magic, still fires the emotions and still brings a tear to the eyes of a 94-year-old nearly 9000 kilometres away in Tauranga.
"It told the world the war was over," says Norma. "That photo symbolised all of that. He's not just a sailor, he represents all the men in the armed forces. As a nurse, she represents all of those brave women."
Now George Mendonsa, the man later identified as the sailor kissing Greta Zimmer Friedman in Alfred Eisenstaedt's famous photograph, has died in an assisted living facility in Rhode Island. "That was sad, very sad," says Norma. "But the whole war was sad."
Mendonsa, who was married for 70 years, admitted he had never met the nurse previously. He served on a destroyer during the war, but was on leave when the war ended and lips met. Mendonsa said when he first saw Friedman she reminded him of the nurses on a hospital ship he saw caring for wounded sailors. "I saw what those nurses did."
More on SunLive...