Pillans Point talking about mental health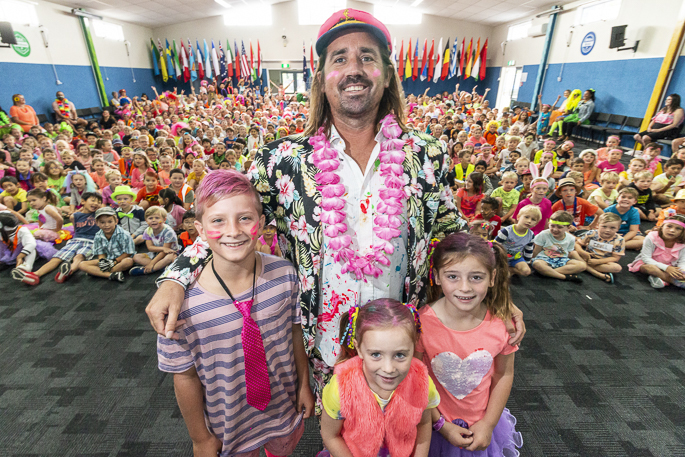 Pillans Point School participated in a 'Fluro Friday' and it was all for a good cause.
The fluro mufti day held on Friday March 1, was to raise awareness about mental health, with gold coin donations going to OneWave is all it takes.
OneWave is all it takes, is a non-profit surf community which tackles mental health issues.
Pillans Point School Principal, Matt Simeon says having the fluro mufti day ties into the new program they have launched within the school.
"We had 'Fluro Friday' at school because we've launched a mindfulness program within the school, 'smiling mind' and that is to help with kid's emotional intelligence, emotional responses to situations.
"It's certainly not a silver bullet but it's a tool for kids to have in their toolbox to be able to go to and use should they find themselves in a situation where they want to calm down and find some simplicity for themselves.
"Tied in with that we had Grant Trebilco, the founder of OneWave is all it takes, whose nieces and nephew go to school. So we had Uncle Grant come to school and share his love for fluro, his love for OneWave is all it takes.
"It's just making a nice link for the kids between the work the Grant is doing at an adult level and but also at a kids level, having tools to open up conversations about how you are feeling and to liken to the weather.
"Sometimes we have stormy days, sometimes we have cloudy days, sometimes we have bright blue sunshine. And the other message of 'it's okay to not be okay'."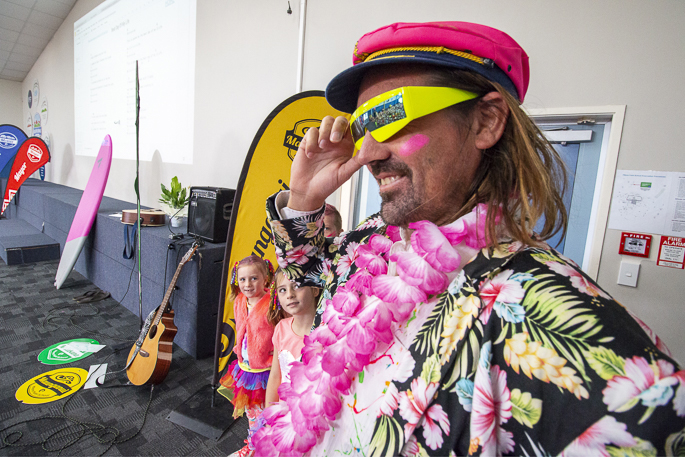 Grant Trebilco dropped in to speak at Pillans Point School. Photo: Bruce Barnard.
Matt says that launching the program is something that has been in the works for two years.
"Smiling minds was a tool that we were introduced to as a group of principals in Melbourne last year.
"After a month of starting with the kids, was the right time to kick off more of an awareness around smiling minds for the kids, having a 'Fluro Friday' just happened to tie in with Grant being home and it all came together quite nicely.
"It was just magic to see the kids in their bright colours, the smiles, and the energy the kids brought to the place because we started a good conversation today."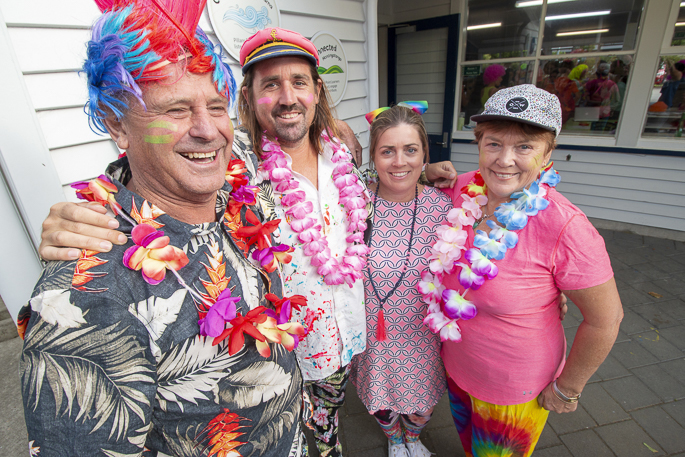 (L-R) Bruce and Grant Trebilco, Lee Simeon (teacher) and Alison Trebilco at Pillans Point School. Photo: Bruce Barnard.
More on SunLive...