Helping others with glossophobia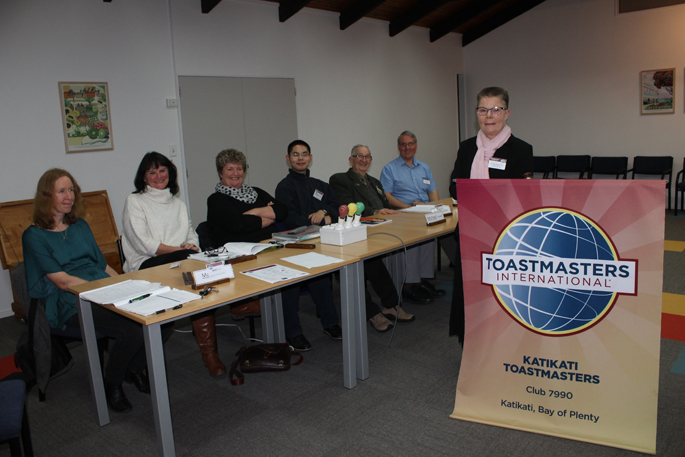 At least 25 per cent of people experience glossophobia – a fear of public speaking – and for many it's holding them back from achieving their full potential at work or in their social life.
For nearly 95 years, Toastmasters has been helping people of all ages overcome that fear, giving them the confidence to speak at family events, public meetings and before work colleagues.
"Toastmasters may have been founded October 22, 1924, but it has more than kept pace with the times, encouraging the use of modern technology in speech presentations and its modules are available on-line to support the meetings members attend," says Katikati Toastmasters Club president Chrissy Meyer.
Katikati Toastmasters is a relatively small club and its members are keen to encourage others in the community, 18 years old upwards, to attend a meeting to discover what benefits they can gain from the programme.
Michael Chuang joined Katikati Toastmasters to improve his public speaking but like other members, found the club offers far more.
"Toastmasters aims to develop communication and leadership skills, which are applicable to a wide variety of situations, such as helping to develop careers and being more confident in day-to-day life. Being a part of Toastmasters is a very rewarding experience, and I encourage people to try it out," he says.
Sue Oppert joined last year when a change of jobs required her to address groups of people more often. "I felt Toastmasters would be a good way to develop confidence. In the past I have shied away from speaking at family and friends' events and later felt sorry - so wanted to have the confidence to speak at future events."
Mary Muller also wanted to build confidence in public speaking and develop communication skills. "I looked at other public speaking courses and they were typically one or two-days and very expensive comparatively. Toastmasters allows you to practice your new skills over time and build on what you have learnt due to its fortnightly format. It is not a one-off course where it is easy to forget everything."
Although a newcomer to the Katikati Club, Glen Balneaves, who is a trainer mainly in the field of health and safety, has belonged to Toastmasters, both in New Zealand and Australia, since 2001.
"I am always looking for ways to make my sessions interesting for students as well as myself. Since I joined Toastmasters, I have been able to learn and experiment with many different presentation techniques and styles, giving me a far greater range of tools to use in my teaching."
Karen Mackie says Katikati Toastmasters Club is a very supportive group. "I am able to practice speaking about the programmes and research that form part of my work."
Chrissy Meyer admits to being terrified to speak in public before joining Dinsdale Toastmasters in Hamilton in 1994.
"I had been invited to train Scout leaders which meant getting up in front of people and that terrified me, so hence I joined Toastmasters. The Toastmaster programme has given me confidence, increased my skill base and my vocabulary which I have been able to utilise in the work sector.
"The Toastmaster programme provides opportunities for individuals to develop confidence and self-esteem in a supportive environment. It is not just speaking before a group of people; it is developing evaluation skills, preparing a speech to give the best impact to an audience, providing skills to chair meetings. The list goes on," she says.
Katikati Toastmasters Club meets on the first, third and fifth Thursday of the month from 7.30pm to 9.00pm at the Katikati Community Centre in Beach Road and visitors are welcome to attend to see how the club works.
To find out more contact Chrissy Meyer on 027 296 7939 or email c.meyer@xtra.co.nz
More on SunLive...