Girls enjoy purple, pink, yellow and white patch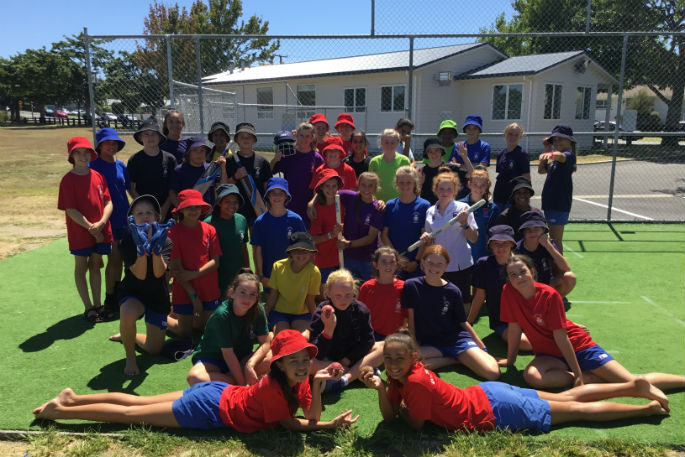 There's some tunes and some moves going down on the boundary at the cricket.
It's Saturday morning, and Brittany Jenkins, Mahalia Raston, Sofia Phillips and the rest of Tauranga Intermediate School's White Ferns girls' cricket team are doing some pre-match prep.
The White Ferns are one of four female teams at TIS - a rapidly growing force in the sport.
"There's always a bit of music out there," says coach Jake Ryan. "We get the UE Boom out and blast a bit of YMCA, Boogie Shoes, Happy and anything with upbeat dance moves."
That's followed by the more gentrified sound of a Kookaburra slamming into willow, stumps shattering, bails flying, dignified appeals and polite applause. Game on.
Cricket has always been big at Tauranga Intermediate. "For boys, but not for girls," says Jake.
"When I arrived at TIS five years ago, there were no girls' teams." He set about changing that – he stopped playing cricket and started coaching it, and soon had a pet project on his hands.
"I had three girls in my class who wanted to play cricket, but with girls, not boys." He had one female team in that first year, and now has more than 40 girls across four teams - the White Ferns, the Purple Ferns, the Pink Ferns and the Yellow Ferns - and a host of enormously supportive families.
There's been phenomenal growth in the culture – so much so that there's now ten teams in the reserve grade.
Brittany Jenkins scored 21 against the Purple Ferns last week – a good knock and a season best, but not quite a career best.
"I used to go with Dad when he played in an evening business house league," she says. "I was quite little. I would just muck around with my friends." But the seed was sown. Brittany started playing a couple of years ago at the age of nine. "I like the excitement of taking a wicket or scoring runs," says the budding right-arm quick, who models herself on a left-arm quick who goes by the name of Trent Boult.
For 12-year-old Mahalia Raston, cricket is about keeping a memory alive.
"My Dad's name was Joe," she says. "He played club cricket and I'm pretty sure he was a bowler." Mahalia lost her dad in April last year. "So I am carrying on, for my dad."
She was also indoctrinated into the ways of cricket by her brothers and sisters. "They played backyard cricket and smashed windows, because they were hitting the ball too hard," she says.
And she's also "carrying on" for perhaps the most famous Mahalia of the all - gospel singer, Mahalia Jackson. "She was my Nan's favourite, so Mum decided to name me after her." There's a lot riding on this young cricketer who also loves netball, the beach and the Black Caps. "All of them."
Sofia Phillips is fresh from a three-wicket haul against the Purples. "I just love bowling," she says. "I love bowling people out. Yes, I am hooked."
So what's the pull? What has cricket got to offer young girls? "Just something new," says coach Ryan. "They always want to give new things a go, and they don't know they are good at it until they try it. Families are pushing it and we are watching the White Ferns being so successful on TV."
Names like Amy Satterhwaite, Suzie Bates and Sophie Devine are now being uttered in the same breath as Trent Boult, Kane Williamson and Ross Taylor.
"Bay of Plenty Cricket's GoGirl programme is also doing the job," says Jake. Via five or six-hour long sessions, girls are introduced to the fundamentals of the game – batting, bowling and fielding – before moving on to GoGirl Festival Days, where teams compete against other schools.
But there was no-one pushing girls' cricket at the intermediate level until Jake Ryan stepped up. He's working on getting that flow-through of female cricketers from primary to intermediate and college levels.
Cricket is Jake's idea of relaxing – away from the classroom and away from the paper work. He coaches six teams across six days and, of course, Saturday is game day. "Yes, I have a passion for it," he says. "I am driven and I always like to be busy."
While girls at TIS are playing cricket, they are also winning. They've twice been to the New Zealand Shield in Christchurch after winning the Northern Districts qualifying tournament in 2015 and 2016. On one occasion they were placed third in New Zealand - "an outstanding result," says Jake - and over the last two years they have been pipped in the final of the qualifying tournament.
But more importantly, the cricket programme at TIS is growing. "Come the fourth term, we hope to have more girls playing cricket than boys," he adds. "Our goal is to pass their 60 players.
"The biggest thing for me is seeing the girls with smiles on their faces – and like Sofia says, picking up wickets and runs.
"The parents are incredible – they're there every weekend as I try to get around four matches. They're wonderful and make life much easier."
If we hear beats from the boundary at Tauranga Intermediate come Saturday morning, it'll just be the Whites, the Yellows, the Purples or the Pinks challenging for the best cricket pitch dance moves and the best photo. The winner goes up as the TIS Girls Cricket cover photo.
Then the real games begin.
More on SunLive...