Neighbours versus rats and mice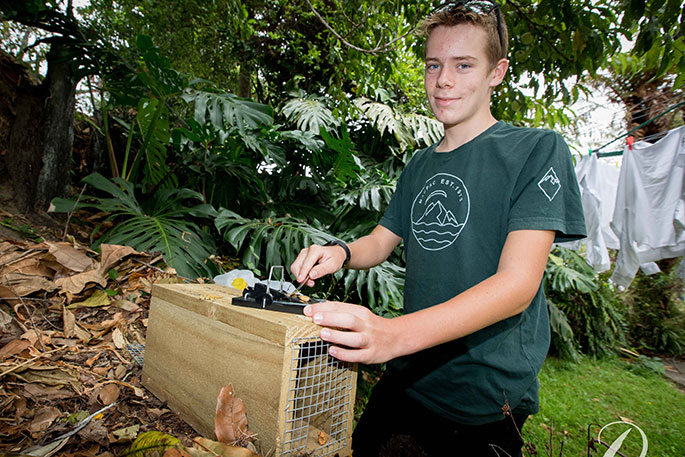 The battle lines have been drawn in backyards across Tauranga. And you are invited to join the fray.
It's the war against pests, the war to save our native birds.
Predator Free Bay of Plenty is looking for more people to lead the charge and bring native birds back to neighbourhoods.
Predator Free Bay of Plenty is a community led, backyard trapping programme that aims to get a trap in every fifth backyard to get rid of rats and mice.
"One rat can kill up to 50 native birds so the more people we have trapping in their backyards, the more native birds we will see," said Predator Free's Emma Woods.
The initiative was inspired by the work of Kelvin Hastie whose crusade saw his Crofton Downs neighbourhood in Wellington became New Zealand's first predator free suburb in 2015. The goal is to achieve the same thing here in the Bay of Plenty.
"The interest has been amazing but we're keen to keep growing the backyard trapping network," says Emma.
"As proven in Wellington, if we can get a trap in every fifth backyard, we'll give our native birds and lizards a fighting chance."
To help get more people enlisted, Predator Free BOP is holding a second round of free workshops for people to learn about backyard trapping and how to become community leaders.
You will learn what's involved in backyard trapping, get a feel for what's involved in being a community leader and what support is available for you.
There will be speakers from local backyard trapping groups sharing their experiences of how their groups operate and there will be a chance to ask questions.
You'll also walk away with your own trap so you can get trapping straightaway."
The first workshop is on Monday March 4 in room A3 at Toi-Ohomai Windermere Campus. That's next to the library.
The second workshop is Saturday March 16 between 10.30 and 11.30am at BOP Regional Council, 6 Rata Street, Mount Maunganui.
Please register for the free workshops at www.predatorfreebop.nz/events
For more info contact Emma Woods at admin@predatorfreebop.nz
There will be rat trap distribution for local residents in Te Puna, Saturday March 2 between 3pm and 4:30pm at Waitui Reserve. And at Papamoa East, Saturday March 23 between 10am and 11:30 am at Motiti Reserve, Papamoa East.
More details can be found at www.predatorfreebop.nz/events or on Facebook page PredatorFreeBOP
More on SunLive...