Paramotor pilot witnessed triple-fatal BOP crash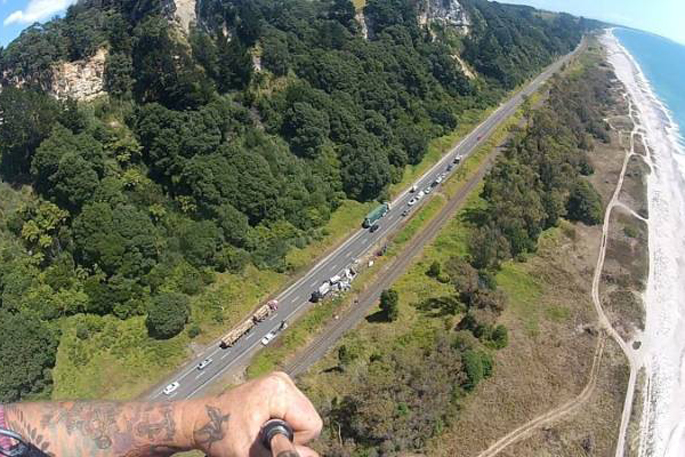 Investigators are staying tight-lipped on whether three road workers killed in a horrific crash near Matatā on Tuesday had road cones and other traffic management items in place when they were hit.
In aerial photographs taken by paramotor pilot Dean Remnant visible traffic cones, temporary signs or other safety items to protect workers are visible along the stretch of road.
Police confirmed Soul Raroa, 55, David Reginald Te Wira Eparaima, also 55, and Haki Graham Hiha, 40, were clearing a roadside culvert at the time of the crash.
The New Zealand Transport Agency, Worksafe New Zealand, New Zealand Police and Fletchers Building, which owns the victim's company Higgins, would not comment on whether a traffic management plan was in place and if temporary speed limits were being enforced in the area.
FIRST Union spokesman Jared Abbott says he would have expected a temporary speed limit to be in place along with other safety features.
"I would have expected to see an advanced warning sign up the road as well as shadow vehicles to slow traffic down while the guys are working," he says.
"It is also likely a temporary speed limit should be put in place for work such as this."
Jared was unable to confirm if safety systems mentioned were being followed at the time of the accident but the union is interested in finding out.
"It is a terrible loss and we are offering support to family," he says.
NZTA code of practices for temporary traffic management state traffic management isn't needed for jobs like clearing culverts if the job can be done in five minutes.
Activities longer than this, or in more dangerous environments require some form of traffic management or spotters to be used.
None of the investigating agencies or the company involved would comment on the scale of the work being done by the trio at the time they were struck.
Worksafe New Zealand confirmed it is conducting an investigation into the incident that could take up to a year to complete.
Pilot Dean Remnant saw the aftermath of the accident from the air and says it looked like a train had derailed.
As he got closer to the accident he took a photograph from his aircraft, which he'd since given to police to help with their investigation.
"At the time there were vehicles driving past it not stopping and people standing around," he says.
It was not until he returned home that he learned the accident was fatal and that police were asking to speak with him.
"It was a bit of a shock to see that," he says. "I handed over the photographs I took to Whakatāne police but didn't see much as I was really far out when the crash occurred."
Fletcher Building bosses described the loss of three of their Rotorua-based staff as "devastating".
​"The loss of Haki, David and Soul is devastating and we are doing everything we can to support their loves ones," Fletcher Building chief executive Ross Taylor says.
"We are providing support and have counselling available to our Higgins' Bay of Plenty team, who have been heavily impacted by the loss of their teammates."
Ross says the company was "fully co-operating" with police and other authorities as the formal investigations into the accident take place.
"We are grateful to everyone, including our roading industry partners, who have reached out with messages of support and sympathy following the loss of Haki, David and Soul."
Police are urging anyone who saw the crash to call Whakatāne police on (07) 308 5255.
More on SunLive...