Awhina House needs compost, hose and wheelbarrow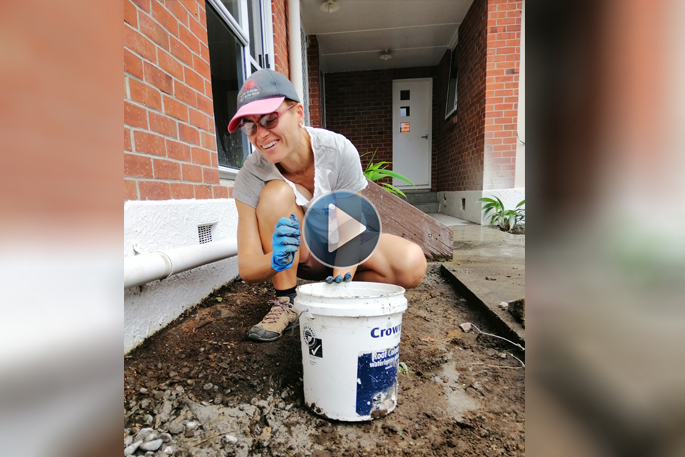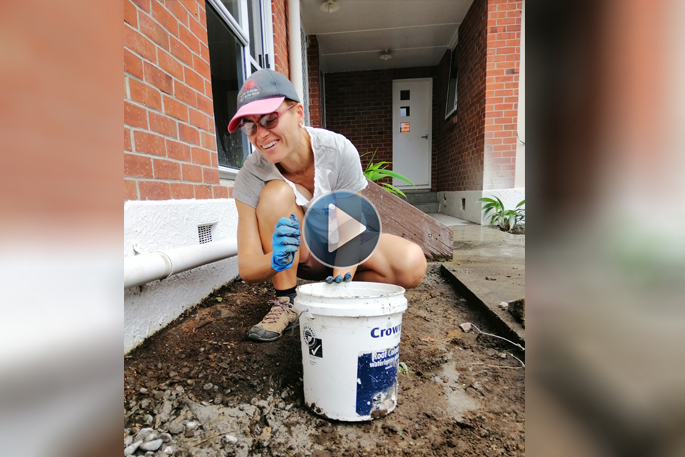 Click the image above to watch the video
The Awhina House team are asking for community help to sponsor compost for their freshly dug gardens.
"We'll need a few cubic metres of compost so that the Beyond Us Saturday team from Curate who are coming in this Saturday can continue with the next stage," says Angela Wallace, one of the He Kaupapa Kotahitanga Trust Tauranga's organisers.
Awhina House is intended to be a safe place for homeless and vulnerable women in Tauranga Moana to sleep and receive ongoing support into permanent housing.
The trust who are setting up the house held their first working bee last Saturday with about 15 people from the Community Angels supporters group coming to help.
The group spent the morning cleaning up the gardens ready for planting a new vegetable garden and other landscaping.
"We are so near to opening, and can't hardly wait!" says Angela. "There are single homeless women who have been waiting for this and Awhina House will bring them hope.
"It was a big day last Saturday. We organised a garden clean up with our Community Angels supporters group and had a wonderful crew of around 15 people who came and helped."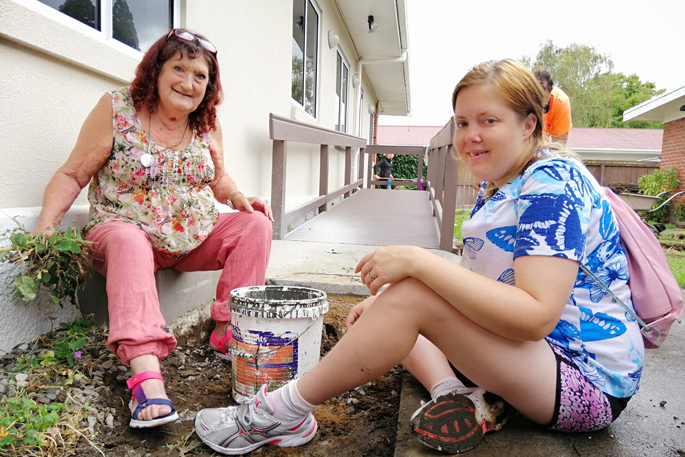 Colleen Spiro and Sacha Williams
The working bee ran from 9am to 12.30pm on Saturday.
"We just want to make the house the most welcoming place for the women who are going to come here," says Angela.
While finalising the recruitment of staff to run the home, the trust saw that the waiting period before opening was a good opportunity to tidy up and transform the outdoor area.
"We wanted to do the working bee just before we open so that our people who will stay here won't be concerned about having strangers in the house or on the property."
Local landscape designer and a neighbour of Angela's, Celia Laity, drew up a landscape plan which the group is working from.
"She's also going to be sponsoring all of the weed mat," says Angela.
"Having a garden to grow veges in will be part of the experience for women staying at Awhina House. It will be a great way for women to learn new skills around gardening and growing their own food which will set them up well for when they move into their own independent housing.
"It will also provide a meditative space, where you can just be pottering away in the garden, and having some time alone with your thoughts. You can think through a lot of stuff when you're gardening.
"We want to bring this place up to a really lovely standard so that when people come here it will feel like a sanctuary and a home. They'll be like 'this is where I feel comfortable and happy and can find my feet again', and from here can journey out, and we'll help them into housing."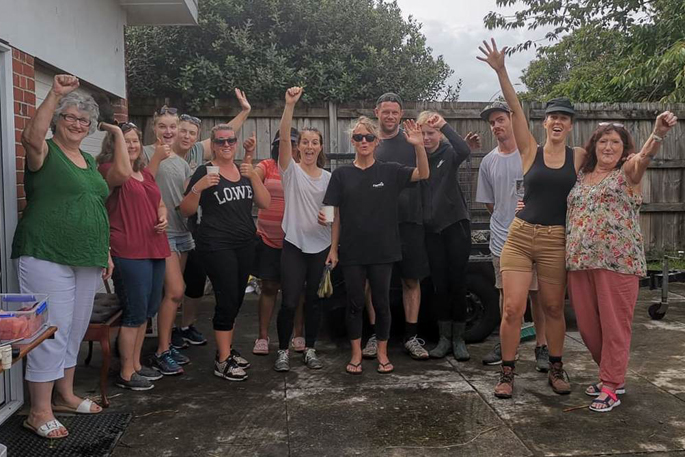 Carol Heena, Liz Fish, Ella Pederson, Angela Pederson, Hayley Fruish, Anouk Seroni Vandervlugt (obscured), Charlotte Meyer, Alana Johnson, Tony Button, Sophie Button, Matt Buxton, Angela Wallace and Colleen Spiro
The group on Saturday managed to get through all the jobs on Angela's list.
"Richard and Jarrod from Mount Maunganui Concrete came in first thing and got rid of a whole lot of concrete that was in the way, so that we could create our gardens. They did that out of the goodness of their heart. They're really busy with their work. It was so appreciated."
"Good Neighbour came in last Tuesday bringing a group from YWAM with them. They worked on the vege garden. It was an overgrown patch of weed with old tyres in there. They came in and cleared all that out in an afternoon. There were four big wool bales full of green waste as well as the tyres.
"The Beyond Us Saturday group from Curate church coming this Saturday will carry on with the work. We need about four cubic metres of compost for them to spread. There's now a lovely blank canvas ready for them to work on.
"We also need a garden hose on a reel, and a wheelbarrow."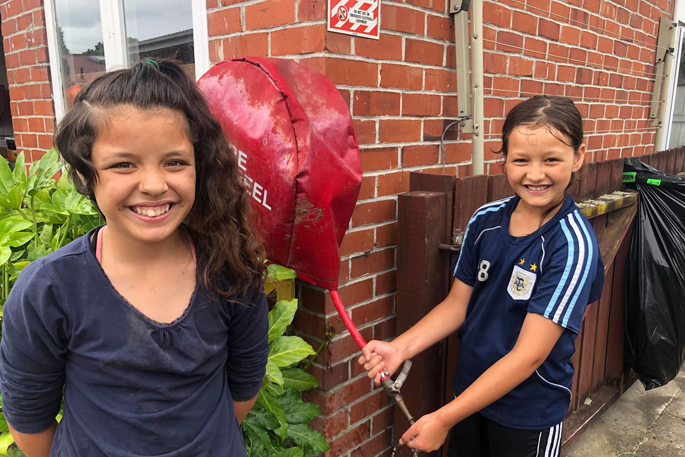 Evelingi Tupou-Pearson (11), Sammie Tupou-Pearson (9)
The Awhina House team plans to wait until the weather has cooled off somewhat before doing most of the planting.
"Once we get to the stage for planting, we'll be seeking sponsorship for the plants," says Angela.
They plan to house 12 women at Awhina House.
"At the moment we're recruiting and getting staff," says Angela. "We'll be able to open as soon as we have our staff. Hopefully sooner rather than soon!"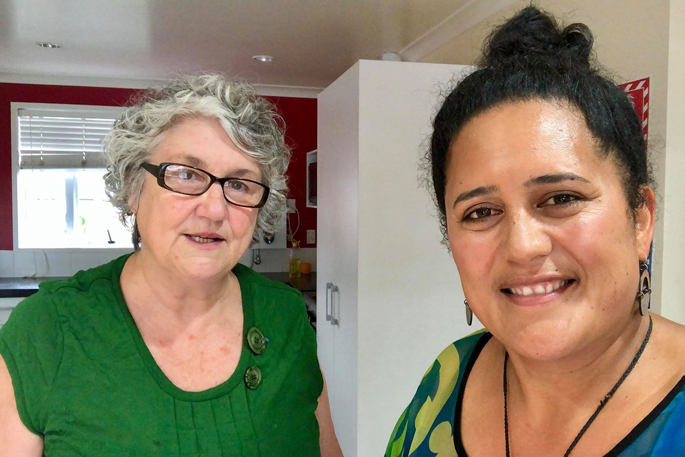 Carol Heena and Tania Lewis-Rickard
Supporters can join the Community Angels Tauranga Facebook group (https://www.facebook.com/groups/communityangelstauranga) to keep in touch with updates and opportunities to help. Angela Wallace and her team can also be contacted by email on communityangelstga@gmail.com
More on SunLive...