Fruit fly restrictions nearly at an end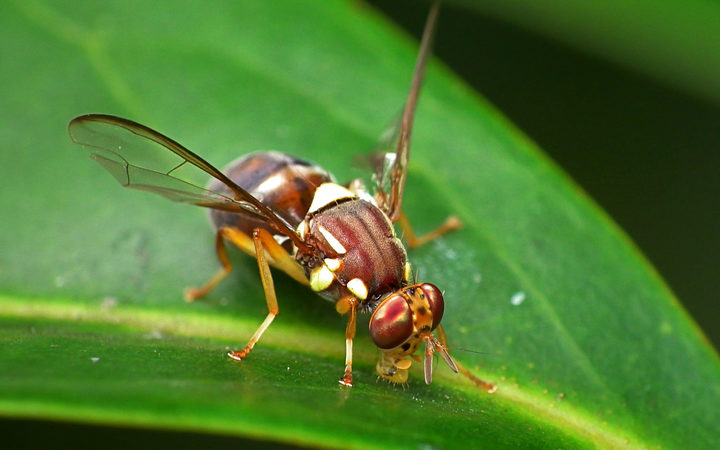 Biosecurity restrictions on Auckland's North Shore following several fruit fly discoveries could be lifted as early as Saturday.
A total of five flies have been discovered in three areas of the city: Devonport, Ōtara and Northcote, biosecurity minister Damien O'Connor said on Wednesday.
If no further flies were discovered, Devonport's restrictions would lift on Saturday, he says.
"We are fairly positive the steps we have taken so far have thus failed to find any breeding population. It's very positive for us.
"If we don't find any more, we will say we are fly-free."
Ōtara and Northcote's restrictions would be lifted on March 8 and 10, respectively, says Damien.
The Ministry for Primary Industries (MPI) launched a significant trapping programme after a single male Queensland fruit fly was found in Devonport on February 14.
Two more male flies were then found in Northcote.
Around the same time, two facialis fruit flies – a separate species, originating from Tonga – were also found in the south Auckland suburb of Ōtara.
Biosecurity New Zealand liaison manager Andrew Sander previously told Stuff the discoveries at opposite ends of the city was entirely coincidental.
A restriction zone, within 200 metres of the initial discoveries, was immediately put in force restricting the movement of fruit.
So far, three tonnes of fruit had been discarded from the restricted zones, Biosecurity NZ's Dr Catherine Duthie says.
"We have not found anything in all of the fruit we have collected in the three restricted areas," she says.
One hundred and forty Biosecurity NZ staff, contractors and industry partners were working on the response.
In addition to surveillance trapping, Biosecurity NZ was also collecting fruit from backyards and checking for larvae.
The effect on New Zealand's economy was yet to be fully assessed.
TIMELINE: FRUIT FLIES FOUND IN AUCKLAND 2019
February 14 - Single male Queensland fruit fly located in Devonport, on the North Shore.
February 18 - A different type of fruit fly, a male Facialis, discovered in Ōtara, south Auckland.
February 20 - Another male Queensland fruit fly found on the North Shore, this time in Northcote.
February 21 - A second male Facialis detected in Ōtara, only 70 metres from the first find.
February 25 - Another Queensland fruit fly found in Northcote, the third discovery on the North Shore in two weeks.
More on SunLive...