Temperatures plummet as snow falls in NZ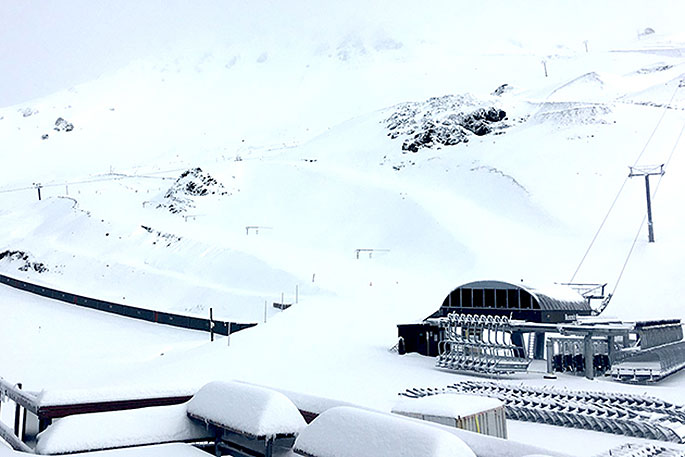 Snow in summer. Sounds like something out of a movie, but yet it's a reality in New Zealand.
With a just a few days left of summer, half a metre of fresh snow has fallen on Mt Hutt in the South Island.
"Fifty centimetres is quite unusual in summer," Mt Hutt manager James McKenzie told the Ashburton Guardian.
Temperatures plummeted to near zero in parts of the country overnight as a southerly cold snap chills the country.
Inland areas of both islands were the coldest overnight but temperatures in the main centres were also cooler than usual, says the MetService.
Waiouru in the central North Island fell to 0C and Ohakune wasn't much warmer, at 0.8C, while Tāupo was still a chilly 2.6C by 6am.
Masterton and Palmerston North were 3C and Taumaranui fell to 3.2C overnight.
Tauranga recorded 11C around 6.30am and is currently sitting around 12C.
Auckland Airport was at 13.2C and Christchurch a chilly 7.4C, while Wellington Airport, at 8.8C overnight, was colder than Dunedin city's 9.9C.
When the rain finally pours, temperature drops by 15*

— Vincent Fang (@vincentfang16) February 25, 2019
In the South Island, the inland towns were coldest; Gore at 2.4C and Alexandra with an overnight low of 2.5C. The coldest overnight temperature in the country was - as expected - at Mt Hutt with -4.8C.
Daytime temperatures yesterday were also lower than usual in many places, with Masterton reaching a high of 16C compared to a usual February average of 24C.
My oh my how I laughed about the 'cold snap' coming to NZ ....this may well be the coldest temp I have ever been in Today - ❄️❤️it what's the coldest temp you have ever been in ??? @thecoffeecop @VPD2Fox15 @ValerieAdams84 @PCArsenault @antmiddleton #zeronegativity pic.twitter.com/G22CmWxRLQ

— Bryan and Bobby (@bryanandbobby) February 25, 2019
As New Zealand shivers, the UK has had its warmest winter day on record, with the Met Office recording 20.6 C recorded in Trawsgoed and Ceredigion, in Wales.
It is the first time a temperature of over 20C has been recorded in winter, the BBC reports, breaking the UK record for February, set when the temperature reached 19.7C in Greenwich in 1998.
It's officially the UK's warmest winter day on record; three sites exceeded 20 Celsius today with 20.6 °C at Trawsgoed, Ceredigion the highest temperature ☀️️ pic.twitter.com/eMCYDUdwW7

— Met Office (@metoffice) February 25, 2019
MetService duty forecaster David Miller says there will be gradual improvement in temperatures over the next few days.
A ridge in the Tasman Sea will flow onto the country today, bringing a warmer day.
But cooler temperatures will return for many towns tomorrow and Thursday, as cold air behind a new cold front brings rain or showers to most parts of the South Island.
How long will the cooler than average weather last❓

️ Another chilly southerly arrives Wednesday-Thursday.
️ Turning warmer next week.
☀️ Warm (and dry) spells linger through the first 10 days of March.
Seasonal outlook for autumn released on Thursday! pic.twitter.com/V3ntXtP15a

— NIWA Weather (@NiwaWeather) February 25, 2019
Normal temperatures forecast by Friday and fine and dry weather expected for most over the weekend.
More on SunLive...