It's a wild world out there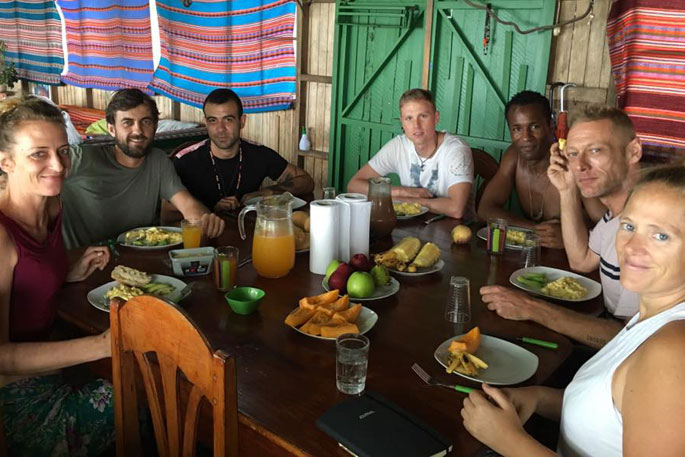 Part of her heart still lives in the jungle, where she let her hair grow wild and survival became her new best friend.
Wendy Garvin is the real life Jane Porter - training as a hair dresser before ending up in natural medicine in the Peruvian Jungle.
"It wasn't just some backpacking adventure in Peru," says Wendy, "it was two big years and probably one of the most pivotal points in my life.
"There is a part of me that feels at home in Peru, but at the same time the biggest part of my heart is in New Zealand."
For several years she was a hairdresser in Tauranga, but when she was diagnosed with an auto immune condition, she looked to find a different career pathway due to the health risks.
"When my health became an issue, and because I was working with all of those chemicals, my health started to decline," she says.
"I was given a choice, either to be put on steroids or completely change my lifestyle by going natural. I chose to go natural."
Wendy started working at home as a hairdresser, using all-natural products. She then realised she had an interest in natural medicine, and began to study homeopathy in Tauranga.
"I made friends with someone in the homeopathic industry who was going to these meditation retreats and had been traveling to different retreat centres over the years.
"I was kind of inspired by that, and after a number of years I travelled around the world."
Wendy has experienced many "once in a life time" adventures, such as travelling to Nepal and staying in the shadow of the Himalayas while a strike was going on. But the most profound experience was her time in the jungle.
Her first experience was at a retreat centre in Cambodia.
"After a week of being in the jungle, I did consider leaving, because the environment was just too rough," she says. "We were bathing in these buckets of swamp water, so after a week I was covered in bites. I just couldn't do it."
But when she complained to someone who was staying at the centre, by a stroke of pure luck, he offered a way out.
"I said to him that I either needed to go home or do some sort of work exchange. As those words came out of my mouth, he got a text from his close friend who owned a retreat centre in Peru."
"Her assistant had just quit and she didn't know what to do, so I took the job."
Wendy says the retreat was not far from a city, but still far enough away that survival skills were a must.
"You really need to learn about what your strengths are, because the jungle is all about survival.
"Everything that grows there is trying to be the tallest, and is climbing over other trees to survive. It's very much like that for people and animals as well."
During year one she lived in a tree house on tall stilts. Once the rainy season had arrived, the entire tree house would be surrounded by water, requiring them to build a bridge to land in order to walk to the other houses.
"We would have to catch a boat off the balcony at the front of the house, and there would be pink dolphins swimming underneath my bedroom," she says.
It also wasn't uncommon for her to wake up to sloths hanging off her ceiling, in addition to the two monkey friends who would visit the retreat during feeding time.
This became her normal, and over time she too went all-natural. She grew her hair out and stopped colouring her hair and wearing makeup.
"I was still colouring my hair in the jungle for a while and thought 'this is ridiculous'. I slowly stopped all of that and also wasn't worried about wearing different clothes. I didn't care anymore, I was in the jungle."
She started practicing natural medicine at the retreat. They would welcome guests from all over the world seeking to learn about their spirituality, their trauma and how they could treat themselves.
"I was caring for people going through really tough times," she explains, "and that was quite hard.
"But I always knew how amazing it was coming to terms with things and how rewarding it is for your life.
"If you really want to know yourself to the depth of your soul and heal yourself, I would really recommend going to the jungle."
More on SunLive...