Cutting out the middle man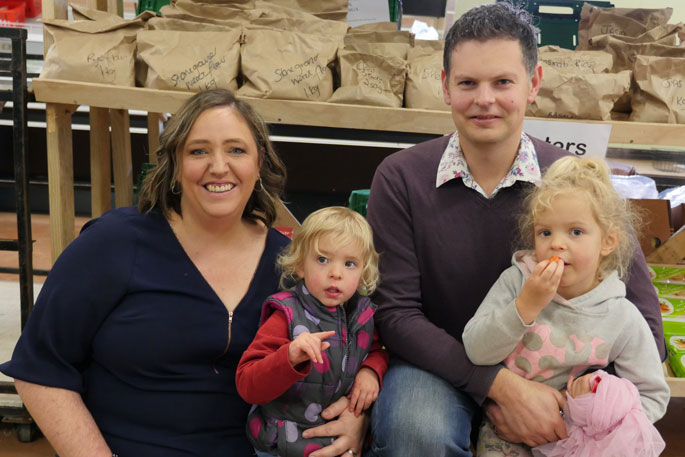 People are tired of paying over-the-top prices for organic, sustainably produced and distributed food, and they're cutting out the profit motivated middle-men.
Tauranga Co-op expert Natashia Lucas says food co-ops are popping up all over the country, introducing a new system for feeding your family as well as possible.
Food cooperatives are not-for-profit groups who buy wholesale directly from suppliers, instead of shopping at traditional retail outlets.
Natalia says she was involved in a food co-op in Wellington, and found when she moved to Tauranga in 2016, there weren't any operating in the city. She promptly set up a co-op in her lounge and from there, it grew to three or four packed out events a month.
"There's this wave at the moment for living an organic life, and co-ops are at the cutting edge of that wave," says Natashia.
"Now that we've got that growth, people are starting to realise that co-ops don't just live in the hippy commune space. They're also for everyday people who care about their families and want to feed them well."
During her years of experience, Natashia has also discovered how hard it can be to start up a co-op while maintaining a full time job.
"The issue with co-ops traditionally is that the administration takes heaps of time," she says. "People don't realise how much time it takes until they're in it, which is why many co-ops suffer."
The administration includes finding suppliers, tallying supplies, setting up accounts and dividing produce evenly.
This month, Natashia and Malcolm Rands are launching a new software service called FareShare, designed to help with all of those issues.
"We don't need to create massive co-ops that are centralised - people can do it in their own community. With our software, we want to help people avoid these pitfalls so they don't get into that rut of working six nights a week.
"The new system will also allow members to supply from their own backyard, so the money that is saved can also stay within the local community."
FareShare's launch event is on Friday, February 22 from 6-7pm at the Base Station, 148 Durham Street. It's an open invite, so anyone interested is welcome to attend.
There will be some short talks and plenty of opportunity to engage with the co-op community, both locally and nationally.
For more information on food co-ops, visit: taurangacoop.co.nz
More on SunLive...