Another accolade for Baldev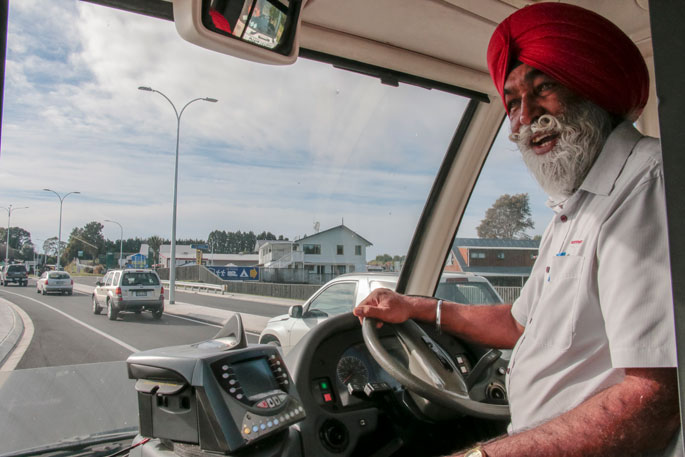 While every other bus driver and bus service in town is copping it in the neck right now, the public persona of at least one driver is flourishing.
"Baldev is amazing. He's pretty awesome - pretty special."
That's the glowing endorsement from a Tauranga radio station exec when asked about the man who sometimes chauffeurs her and other city-bound Katikati folk down State Highway 2 to work from Monday to Friday.
Baldev Singh, also respectfully known as the Turban Man, is the Sikh at the helm of Route 80 - the Katikati to Tauranga Bayhopper bus service.
He featured in The Weekend Sun a year ago. Confident, charming, courteous and dignified were some of the traits bandied around at the time.
"A trademark bright red turban, a palette of white, silver and grey in a paddock of a beard, a waxed moustache twirled into an artwork and deep dark mysterious eyes. A bus driver who cuts a dash," read the Weekend Sun story.
But it's Baldev's customer service skills that have impressed Kate Rigg, general manager of The Breeze radio station in Tauranga. As someone who works in the customer service industry, she's someone who should know.
"One Friday night it was raining when we arrived in Katikati," says Kate. "He had all these umbrellas in his bus and he told everyone that if they needed an umbrella they could take one and return it on Monday morning. Now that's over and above."
Kate has also left personal possessions on the bus. "It was my keys and my wallet and things. Each time, Baldev took charge of the situation, made sure I was contacted and that my possessions returned. He really takes huge ownership of his job."
As a bus driver, unofficial public relations and marketing man and lost property officer, Baldev's across it.
Kate and The Breeze decided to present Baldev Singh with a gift – the citation being that he had given a staffer a brilliant experience and just to say thanks for being a great bus driver.
It was a Breeze summer prize pack including sunscreen, chocolate, nachos and drinks. "A summer refresher pack to keep him going on his trips," says Kate. "He was absolutely over the moon. I think I made his year."
She suggests we could all learn a thing or two from Baldev. "Every day he makes a difference to people's lives with the way he reacts and responds to people. He looks after people and he cares for people."
Baldev always manages to put a smile on faces, "and as human beings we need to do more of that," says Kate.
Baldev's Katikati bus is an advertisement for commuter travel. "A lot of people poo-poo bus services and bus users, but obviously they don't realise there's wifi onboard, so you can start work before you get to work," adds Kate.
"There's all sorts of people from all walks of life. There's the guy from the Regional Council, the lady from the bank and the graphic artists." In other words, the Katikati coterie who utilise this service.
It's a real social occasion. They've even discussed wine and cheese for the Friday trip home.
More on SunLive...