Kiwifruit industry launches recruitment drive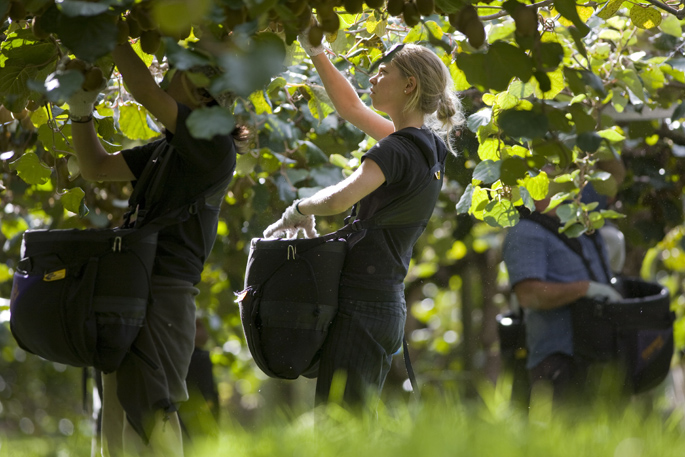 The kiwifruit industry has begun a recruitment campaign ahead of the harvest season staring mid-March.
New Zealand Kiwifruit Growers Incorporated Chief Executive Officer Nikki Johnson says they want to make sure they are not short of workers.
"The amount of green and gold kiwifruit on the vines is forecast to be even higher than last year's harvest," says Nikki.
"That means around 18,000 workers will be needed.
"Last year, the harvest was at least 1,200 workers short at the peak – we don't want a repeat of that."
The MP for Bay of Plenty Todd Muller is calling for the Government to urgently declare a seasonal worker shortage.
He says it will allow work visas to be fast-tracked as they were late in the 2018 season.
"Fruit growers were grateful that the Government lifted the Recognised Seasonal Employer scheme cap last year, but that doesn't go nearly far enough in a season some are calling a 'perfect storm' of big crops and a worker shortage.
"Kiwifruit growers but will be competing with vineyards and summer fruit orchards for workers."
But the Ministry of Social Development says it's too early to declare seasonal labour shortage for the Bay of Plenty because the Kiwifruit harvesting season hasn't kicked in.
Regional Commissioner Mike Bryant says the previous labour shortage in Bay of Plenty was declared in May 2018.
"We're continuing to talk with industry about their expected supply of labour, which we know can be hard to predict.
"Predictions will become clearer in the next few months as the harvest season approaches."
Nikki says to promote seasonal jobs in kiwifruit they will be running a broad labour recruitment campaign.
"It will target local students, unemployed kiwis, retirees and backpackers, to show them what the industry can offer and address any misconceptions about the work," says Nikki.
"While we want to employ local kiwis as a first priority, we're casting the net far and wide to attract as many seasonal workers as possible.
"There is a workforce out there that we think would be great in our industry; we just have to tell them about it and let them know what's in it for them."
Nikki says the campaign will promote kiwifruit work opportunities through a major social media campaign to reach potential workers, using Facebook to connect with job-seekers through the recently launched Kiwifruit Jobs NZ page.
The industry needs large numbers of workers over a relatively short timeframe from late March through June for harvesting fruit.
"But there's also a large number of workers needed in the packhouses in a wide range of processing roles, as the fruit leaves the orchards to be prepared for distribution overseas."
"A lot of incorrect information exists about working with kiwifruit making it harder to recruit people who would otherwise get a lot out of seasonal work.
"That includes the pay rates – they are actually very competitive. We will highlight the facts about kiwifruit work through our campaign to rectify myths."
"In comparison to 2017 numbers, the kiwifruit industry will require an additional 7,000 workers by 2027.
"In 2017 when the minimum wage was $15.75, the average wage for picking kiwifruit was $20.95.
"The expected picking rate in 2019 is $23.50."
More on SunLive...