Call to declare seasonal worker shortage in BOP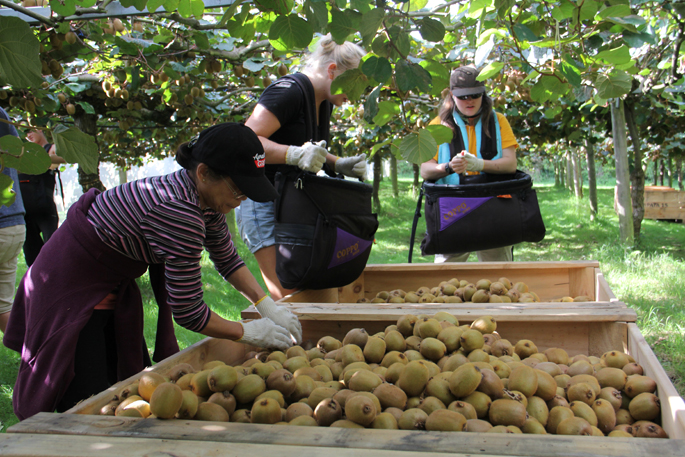 Bay of Plenty MP Todd Muller is calling for the Government to urgently declare a seasonal worker shortage in the region.
He says it will allow work visas to be fast-tracked as they were late in the 2018 season.
"Kiwifruit growers in the Bay of Plenty are getting ready for another bumper harvest this season, but once again are struggling to find workers to get the fruit off the vine," says Todd.
"The Government has the tools to fix the problem, but are failing to understand the urgency of the situation for orchardists who need more workers – not more working groups.
"Fruit growers were grateful that the Government lifted the Recognised Seasonal Employer scheme cap last year, but that doesn't go nearly far enough in a season some are calling a 'perfect storm' of big crops and a worker shortage."
Todd says the Government has tried to kick this issue for touch by announcing a review of the Recognised Seasonal Employer scheme sometime in 2019, while saying growers should do more to attract local workers.
"Growers say they have no problem with the job seekers referred by the Ministry of Social Development who stay beyond a handful of days, but there just aren't enough of them.
"Seasonal fruit won't wait for another round of consultation. Pressing problems need practical solutions or fruit will be left to rot on the vine.
"Kiwifruit growers, who have staged a remarkable comeback in recent years, are staring down the barrel of a golden harvest - but will be competing with vineyards and summer fruit orchards for workers."
But the Ministry of Social Development says it's too early to declare seasonal labour shortage for the Bay of Plenty because the Kiwifruit picking season hasn't kicked in.
Regional Commissioner Mike Bryant says the previous labour shortage in Bay of Plenty was declared in May 2018.
"It is still early on in the Bay of Plenty kiwifruit season," says Mike.
"We're continuing to talk with industry about their expected supply of labour, which we know can be hard to predict.
"Predictions will become clearer in the next few months as the harvest season approaches.
"We do want to acknowledge the efforts that industry has been making recently to source employees, in particular a broad range of available New Zealanders.
"We're seeing Bay of Plenty growers being more proactive in their workforce planning and a new Labour Attraction Strategy launched, which has some good initiatives."
More on SunLive...