On a pathway to success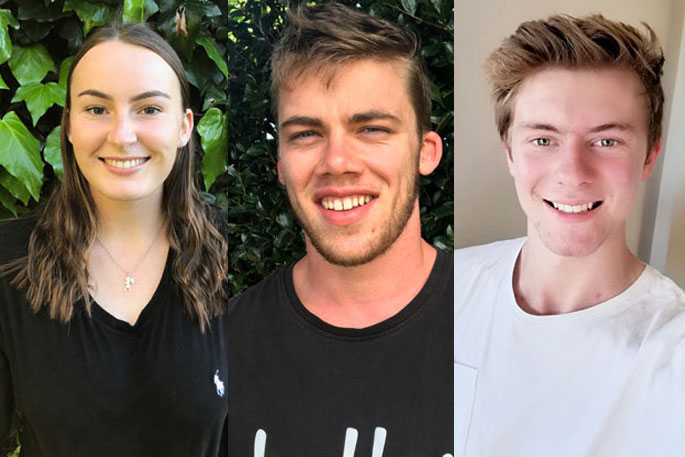 Three students have landed the opportunity to further develop their knowledge and skills with the assistance of a scholarship.
The Omokoroa Lions Club recently awarded their annual tertiary scholarships to students from the Omokoroa area who have had at least one year of tertiary education.
The winner of the Beryl Scott Award of $2000 is Grace Egan, with joint winners of The Precious Brothers Award, winning $1500 each, named as Matthew Hall and Kieran Lander.
Grace, who grew up in Whakamarama, says her sister previously received one of the scholarships, and a close family friend suggested she should apply too.
"I was very excited and proud of myself for meeting the high standard criteria that allowed me to apply for and receiving the scholarship," says Grace.
"These funds will make a huge difference to me in meeting my costs this year, and I am very grateful to the Omokoroa Lions Club and the administrators of the Beryl Scott scholarship for their confidence in me."
Grace was an outstanding high school student, excelling in NCEA - especially in the areas of chemistry, physics, biology and mathematics. As well as her strong academic record, Grace was also in the top Aquinas volleyball, netball and football teams.
She attended Otago University in 2018, where she studied Health Science and achieved an A-plus average mark. This year she has been accepted entry into the Bachelor of Pharmacy.
"I have always been interested in science and people's well-being, so being involved in the health industry was a natural path for me," says Grace.
"I love working with people and I have a real interest in their health and wellness and the impact that medications can have on this."
At this stage, Grace intends to commence working and gain practical experience as a pharmacist in the Tauranga area and continue her studies to gain a Masters in Pharmacy.
Like Grace, Omokoroa-born students Matthew Hall and Kieran Lander enjoyed exceptional results throughout high school.
Matthew was appointed to a top prefect role, went on a mission's trip to Vanuatu and coached several junior rugby teams. He attends the University of Waikato, where he is studying a Bachelor of Management Studies with a double major in Strategic Management and Marketing.
Matthew hopes to secure an internship at a large company to be trained for senior management. His long-term career aim is to become the CEO of a large, multi-national company.
Kieran, who attended Tauranga Boys' College, also excelled in both academic studies and co-curricular activities.
He was involved in a lot of different music bands/groups and productions at school, as well as being an arts captain and school prefect.
Kieran attends the University of Canterbury, where he is studying a Bachelor of Product Design: Applied Immersive Game Design, to become a virtual reality developer. His first year results averaged at A-minus.
Kieran hopes to work with a company such as Beca, where virtual reality is used to create building spaces to show clients before it is built to scale.
More on SunLive...