Cook Strait swim goal has come early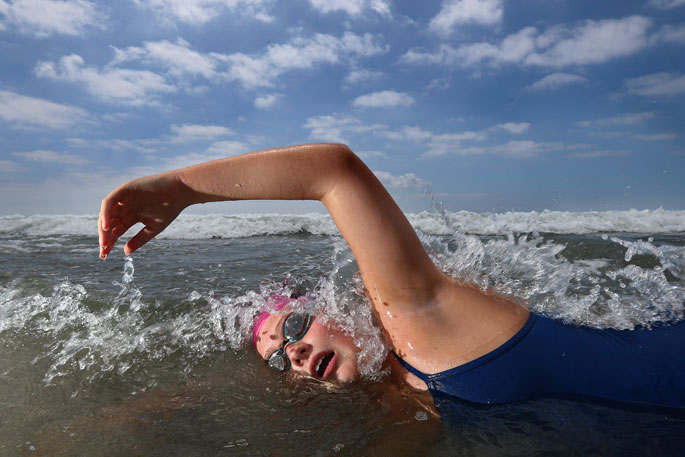 Georgia Bavington's goal to swim the Cook Strait could be achieved earlier than planned.
Currently fifth on the list of potentials, the 15-year-old could get called up any day to tackle the challenge.
Georgia started planning the Cook Strait swim about 18 months ago. The distance varies depending on the weather and sea conditions, but after completing a Papamoa-to-Pilot Bay swim in January, she felt Cook Strait would be well within her grasp.
"I told my coach and she said 'go for it'," says Georgia, "so we rang Philip Rush, the guy in charge, and got on the list."
Philip, a long distance swimmer and current world record holder for the fastest two and three-way swim of the English Channel, has completed the Cook Strait challenge eight times.
The swim will cost a few thousand dollars – a challenge in itself.
"She gives up a lot of social things because of swimming," says mum Sonya. "Swimming is our life."
Training starts at 6am each morning with two hours at Baywave, and she returns to the venue on Monday, Wednesday and Friday afternoons for more sessions.
On Thursdays and Saturdays, she also trains in the ocean for around two-to-three hours each time. In total, she is training approximately 20 hours a week.
"I was about three or four-years-old when I started swimming lessons at Baywave," says Georgia. "I started off doing competitive pool swimming, but then heard about open water swimming and wanted to give that a go. I love it."
She started at Papamoa Swim Club at age seven before joining the Mount Swim Club. Some three years ago, she moved to Team Shorebreak Inc to start ocean swimming.
Last year, age 14, she swam from Motiti Island to the Papamoa Surf Club with a kayak and support boat alongside her.
"It took just under four hours," she explains. "I wasn't really worried about the time, I just really wanted to do it."
Since then she's been busy doing longer distance swims and training twice a day.
Before Christmas, accompanied by life guards, she swam from the Papamoa Surf Club to Pilot Bay - a distance of 16km. In January she completed a 16km swim across Lake Rotoiti, followed a week later by a 21km pool session.
Georgia wants her parents to be able to come and support her during the Cook Strait swim, and her Givealittle page has already raised $1000. People can help sponsor her at: https://givealittle.co.nz/cause/my-goal-of-swimming-the-cook-strait-has-come-early
In the future, Georgia would like to swim the English Channel as well as other long swims around the world, but for now the Year 12 student is undecided about what she is going to do when she finishes college.
Just keep swimming Georgia!
More on SunLive...