Tauranga Kayaker takes on 2019 Coast to Coast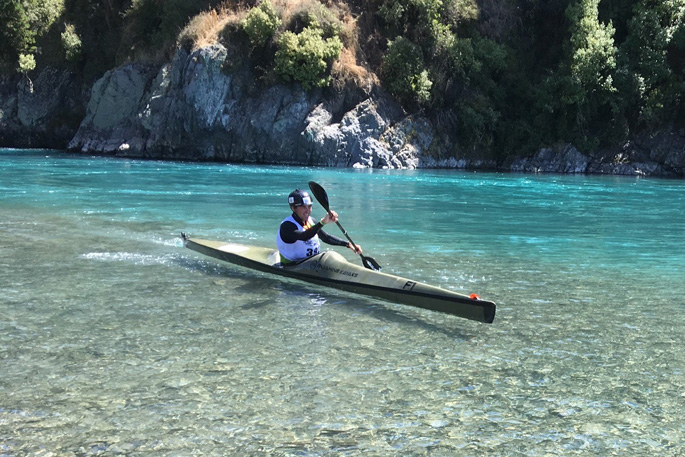 The Kathmandu Coast to Coast is an iconic Kiwi race.
It involves cycling, running, and kayaking across the width of the South Island, starting on the beach near Hokitika and finishing on the beach in Christchurch. Does as either a one or two day race, it's known to test everyone who takes up the challenge and this year was Tauranga kayaker's Tim Taylor's turn.
Twelve months ago, he'd just completed the 2018 race as the kayaker of a three person team, and despite the fact his team had won the open men's division, he says he felt slightly disappointed with himself.
"I'd just witnessed hundreds of amazing people complete the whole thing, people of all ages, sizes, and backgrounds. I was blown away at how they'd all overcome their own personal battles to cross the finish line and my small contribution to a team felt insignificant compared to these achievements. I stood on the beach and committed to completing the whole Coast to Coast in 2019.
"Let me paint a picture for you of the 2019 race. At 5.30a, you rack your bike in the darkness and make your way to the beach near Kumara.
"It's tradition to touch the water on both coasts so in your own world of thought, you pick up a handful of wet sand at the water's edge and feel the nerves start to build. Emotions are feeling pretty strong at this point as it's neem a year of hard work getting to this point, just don't bother trying to go for a nervous pee because the line of the porta loos stretches towards the horizon.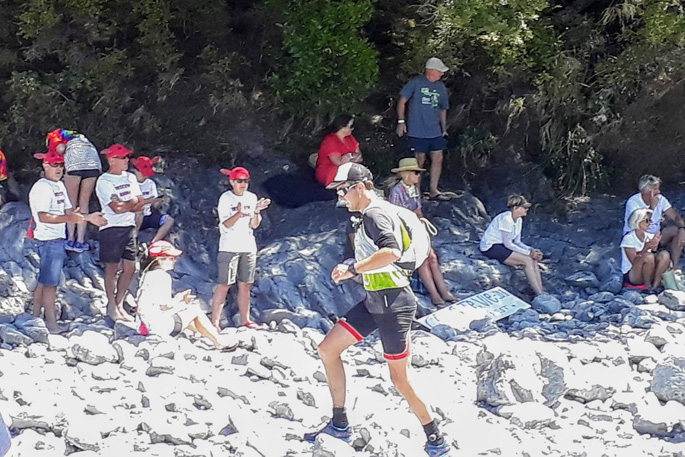 "The cannon fires at 7am and there's a mad scramble of around 500 people up the beach. After a 2km run to the bike transition, we jump on our road bikes and jostle for a position in a bunch during a 55km cycle to Atkins Corner.
"After a quick change of equipment and with jelly-like legs, we stagger off towards the Deception River and start our 30km mountain run.
"Now I must mention this run is no normal run. It involves running up a largely untracked river valley, almost exclusively on rocks, and through numerous knee to waist deep river crossing. Your legs are screaming at you and camera crews are strategically located to capture the maximum amount of pain.
"After a quick gear check at the Goat Pass Hut, we begin the downhill into the Mingha river valley. Things don't get much easier. A steady stream of rocks, knee high tree roots, and steep river banks keep the battle raging as the fatigue starts to set in.
"When you break free from this environment and onto the relative flat of the river bed, you still have around 10km of rock running to go. Finally Klondyke Corner appears like a mirage in the distance. Everything hurts at this stage and for the most of us it's sheer will power that drags us across the final stretch of rocks.
"For most of the competitors this marks the end of the longest run they've ever done, and a cold beverage awaits. To those super humans who compete in the one-day event, this is only half way.
"Day two starts around 3.30am. Support crews take the kayaks down to the river before the road closes at 5am so competitors are left freezing in their race clothing until their appointed start time between 7 and 8am.
"Tired legs struggle to get cranking but once on the road, we're all happy to be generating some heat as we progress through the 17km cycle to Mt. White Bridge. After finding out kayak and getting into a complete new set of equipment, the 70km whitewater kayak leg starts.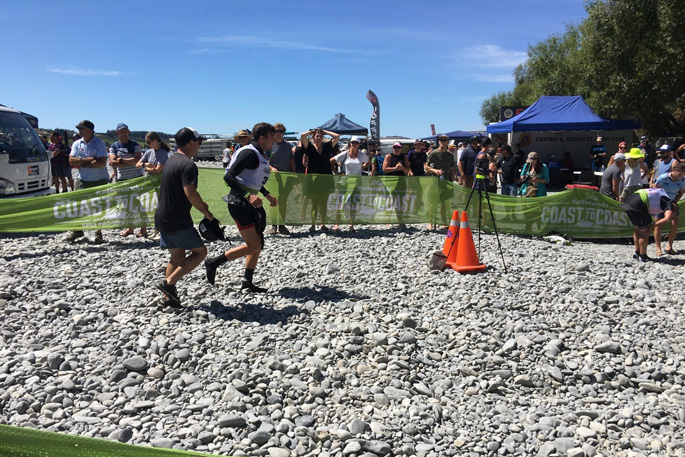 "For most people, this leg of the race represents this biggest challenge. Everyone who competes must complete a grade 2 river course before the race but this is no guarantee that they'll stay upright on the day. There's always a high degree of nerves as we point towards the first rapids. This year the river was running at an extremely low level so there was the added worry of expensive race kayaks snapping or getting holed on the numerous shallow rocks.
"For better or worse, we make it through the first braided section and into the dreaded Waimakariri Gorge. For non-kayakers this represents 30km of apprehensions – its solid grade 2 whitewater with a new rapid roughly every 500m.
"Thankfully the race organisers have the safety nailed and on any rapid of consequence there's a small army of safety crew, including jet boats. Everyone is well looked after.
"We emerge at the 'Woodstock' section where the cool of the gorge is replaced by the heat of the Canterbury plains. A final 17km section of river is shimmering out ahead of you and this is where you must lock out any pain signals and simply let muscle memory do the work.
"It's a grind, there's no way around it, but in roughly an hour you pass through the last rapid and hear the cheering as you pull into the final transition at Gorge Bridge."
Time says a big bloke in a high-vis vest lifts you out of the kayak and is a godsend because you can barely move your legs after four plus hours of paddling.
"Waddling like a duck, you stumble over the stones as your support crews rips off the kayaking gear and guide you up to your bike. Friends and family are cheering you on but you're getting pretty knackered now so it's hard to figure out where they're coming from.
"Marshals point you up to the road and once on the bike it feels good to use the legs again. You smile because you remember there's only one 70km cycle leg to go. The smile is short-lived however because as you turn onto South Eyre Road, you realise that you've now got to pedal down the longest straight road in New Zealand, and into a baking hot 30 degree head wind. It's safe to say that your mind goes to some dark places as you battle through this last ride."
Tim says entering into Christchurch is a cool feeling.
"Police officers are holding back traffic for you, numerous people are cheering from outside their homes, and cars give you lots of 'happy toots' for encouragement. The smell of the ocean guides you into the finishing shoot at New Brighton.
"After ditching your bike you stumble the final 20m up the sand to cross the finish line. Dang, what a feeling! You've just finished a 243km race across the whole of the country and at that moment it doesn't matter if you come first of last. It's all you."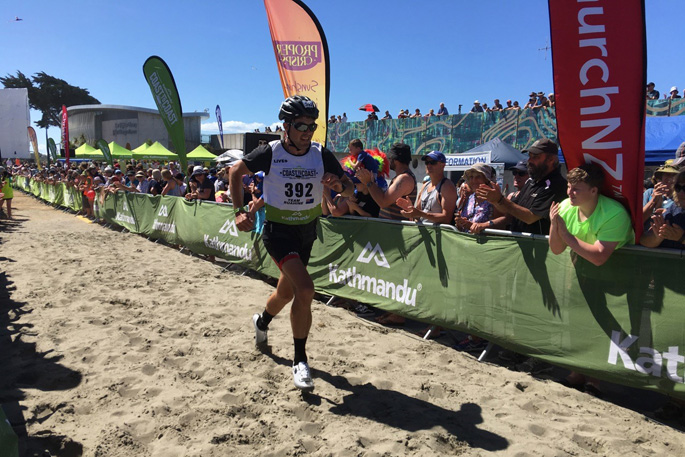 More on SunLive...