Will 2019 be the Doggies' year?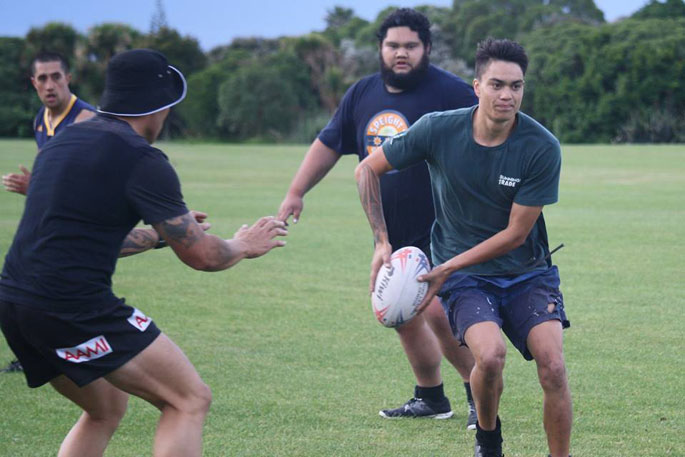 When they win, they sing.
"The Dogs are having a party," the anthem goes. "We play hard, we play fast. Ain't no way we're coming last."
The Dogs are the Papamoa Bulldogs, and they hope to be in full voice after their games most weekends this winter.
"Last year was about being competitive, and we achieved that," says ambitious sophomore coach James "Jock" Nicholson, who has set himself three years to win the premiership.
"This year is about raising the bar and making the semi-finals." And next year, he says, is glory year. "That's what I have put out to the guys, and that's where we are all headed. We want to win next year." It's a realistic expectation, because this year at Gordon Spratt Reserve, the Dogs' kennel is brimming.
"Last year we would have 20 to 25 players at training – this year we've got 30 to 40," says Jock.
"It's a result of the work that was done last season, to turn Papamoa into a competitive unit."
"It's also contributed to a professional mentality and outlook. Word got out, and people and players started talking about the Papamoa Bulldog model and that attracted players."
The Papamoa talent pool is also bigger, faster and stronger according to James.
"It isn't just the depth of players - I can see the fundamentals and the skills are very, very good. It's the quality."
It's a quality assisted by several rugby players who've changed faith, who see league as a more attractive product.
That quality will be put to the test in the middle of March, when the Dogs play Auckland's New Lynn Stags - "a solid second division side" - in a pre-season workout. "There's nothing like game time to sort things out," says James.
"For us, it'll be about getting used to that confrontational style. That's hard in one game, but at least we will get a taste of it before we get down to business in the Bay of Plenty/Coastline comp."
There will be another pre-season outing against the Ngaruawahia outfit, Turangawaewae Rugby League Sports and Cultural Club. "They have a huge history in the game. They're very close to the Kingitanga movement, so have been around for a while."
The Turangawaewae game will be played at Gordon Spratt Reserve Saturday, March 9 (1.30pm), while the Stags game will be played a week later, on Saturday, March 16 (midday) at the same venue.
There's also some team bonding and building scheduled at a marae next month, to include sessions, moves and plays and goal setting before a big barbeque. "There'll be families too," says James. "We can only do what we do with the blessing and support of partners, wives and girlfriends. They are very much part of the Dogs' culture."
The Papamoa Rugby League Club is into pre-season training at Gordon Spratt Reserve on Monday and Wednesday evenings. For more information, visit Papamoa Bulldogs Facebook page.
More on SunLive...