Kotahitanga for Waitangi Day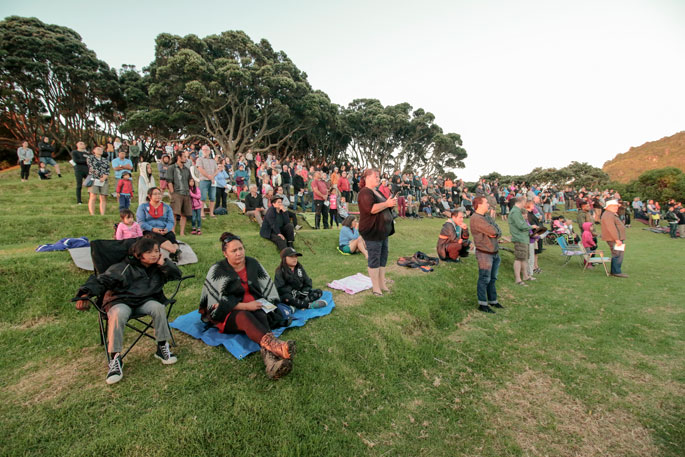 With their best penmanship, the British Crown and Maori chiefs signed the Treaty of Waitangi in 1840, establishing a unity (Kotahitanga) that we still celebrate today.
This Wednesday, February 6, a dawn service will be held at the base of Hopukiore (Mount Drury), and activities will take place throughout the day at the Historic Village to commemorate the signing of Te Tiriti o Waitangi.
The Tauranga Moana Waitangi Day Festival has been organised by the Iwi Kotahi collective, led by consultant and historian Buddy Mikaere, who has been involved in previous community Waitangi Day festivities at Papamoa.
Buddy says this year's focus is on music, food and the arts, joining together community groups in a celebration of our shared identity.
The event will have two sites, chosen to give our Waitangi Day story context by linking the ocean to the land.
"The festival is being held on the site of the former Mount Maunganui Sound Shell, which for many years was the centre of New Year celebrations and entertainment over the holiday period," says Buddy.
"I'm pleased to see that role partly restored as a result of the Waitangi Day festival planned for Waitangi Day.
"In conjunction with the linked festival to be held at the Historic Village, I think we will have a unique celebration of our national day – we are calling it Surf to Village."
The dawn service will start at 6.30am with a whakatau by Tauranga Moana Tangata Whenua, followed by a community celebration, speeches and hymns.
Speakers will include local kaumatua (elders), clergy from community church groups, civic leaders and rangatahi (youth) speakers from the TUIA Te Here Tangata leadership mentoring programme.
An open forum will give all participants the opportunity to share their thoughts on Waitangi Day and what it means to them. Kapa haka and musical performances will also feature during the celebration.
There will also be two all-day events from 10am at Hopukiore Historic Reserve and at The Historic Village on 17th Avenue.
There will be live music, cultural performances and food stands at both venues, along with art exhibitions and workshops at The Historic Village.
"We are organising a full day of Toi Maori workshops, raranga (weaving), poi making and there's going to be contemporary Maori art workshops for children," says workshop coordinator Simone Anderson.
"We also have demonstrations of taonga Puoro (musical instruments) which will be happening over the day and two Maori art exhibitions, which have specifically been launched in time for Waitangi Day.
"The group show in the People's Gallery is made up of some pretty significant Maori artists and the Incubator Gallery supports upcoming emerging artists and graduates.
"Both shows are curated by Parewhati Taikato, who has a brilliant talent of bringing together esteemed Maori artists and delivering sophisticated and professional exhibitions."
The festival is a koha (donation) event that will go towards supporting local kapa haka group Te Kapa Haka o Ngati Ranginui as they prepare to represent Tauranga at Te Matatini 2019, the biennial national kapa haka festival. All of the workshops will be free.
Road closures will be in place on Wednesday from 5am-8pm on Marine Parade from Grace Avenue to Pacific Avenue.
Parking will be available during the dawn service for mobility card holders, kaumatua and kuia and other dignitaries on Marine Parade within the road closure area. Access the area via Pacific Avenue before 6.30am. The area will be locked from 6.30am until the end of the service at 8.30am.
More on SunLive...