Gain some anti-abduction skills in Tauranga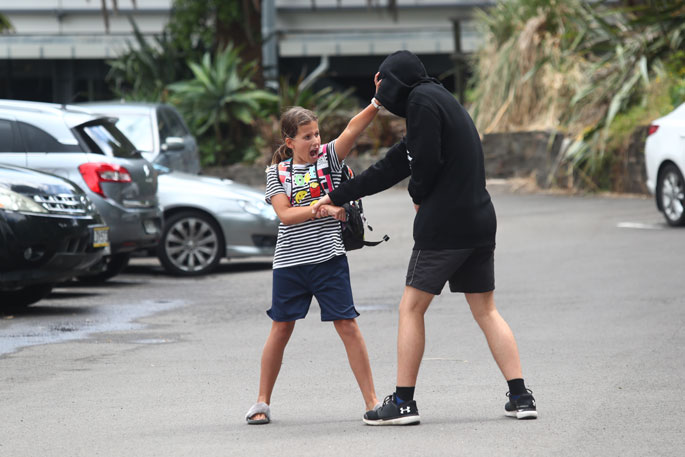 The nightmare many parents worry about was captured in the immortal words of Liam Neeson's character Bryan Mills from the film Taken.
"What I do have are a very particular set of skills, skills I have acquired over a very long career. Skills that make me a nightmare for people like you."
Tauranga's Martial Arts Academy are offering a free community workshop on anti-abduction and back-to-school safety on February 6.
"It will be an informative, hands-on workshop presented by some of the martial arts academy instructors and a former CIB detective and security expert," says academy instructor Christine Young.
"Self-protection skills are so important for children of all age groups and both genders."
Abduction occurs across every region of New Zealand, with 167 abductions reported between November 2017 and November 2018, according to NZ Police statistics figures. No fewer than eight of these were in the Western Bay of Plenty.
These days, abductions are more often carried out by family members, as in the case of broken relationships between parents. Kidnappings and abduction involving strangers is rare.
Parents have learned vigilance, and ensured their children know what to do if they're approached by strangers. Schools also take care to stay aware and work hard to keep their pupils safe.
Dwayne Morgan, who will help run the workshop, is an ex-soldier, a police detective with 13 years' of experience in the force and a security consultant with Special Programs Security Ltd.
"Two years ago, Scott and Christine at the Martial Arts Academy did a similar seminar and I helped them out as a member of police," says Dwayne. "When they said they were doing it again, I said I'd help out.
"I'll be talking with the parents around the likelihood of risk, and I'll speak around the laws and rights of people and what they can and can't do.
"With talking about laws, obviously I'm starting to talk towards parents, so they can put it in terms that their children can understand."
The two-hour practical seminar, sponsored by the Martial Arts Charitable Trust, will run from 10am-12 noon at the Martial Arts Academy on First Ave West, Tauranga.
"We had such a great response from our seminar last time, so we are offering this once again," says Christine.
"We really want kids and parents to know about this stuff. It's like insurance – it's great if you don't need to use it, but it's there just in case. This workshop is priceless and it's free.
"We can fit up to 200 people, and want as many parents and kids to be there as possible."
"From my point of view, the workshop is fantastic," says Dwayne. "Scott and Christine are very driven people and really care about the community.
"It's because of how passionate they are that I offered to help out. I think we need more of this, to give people some basic tools to help keep themselves safe."
To register for this event, contact: reception@tmaa.co.nz or call: 021 980878.
More on SunLive...