Timber site reminder of noisy area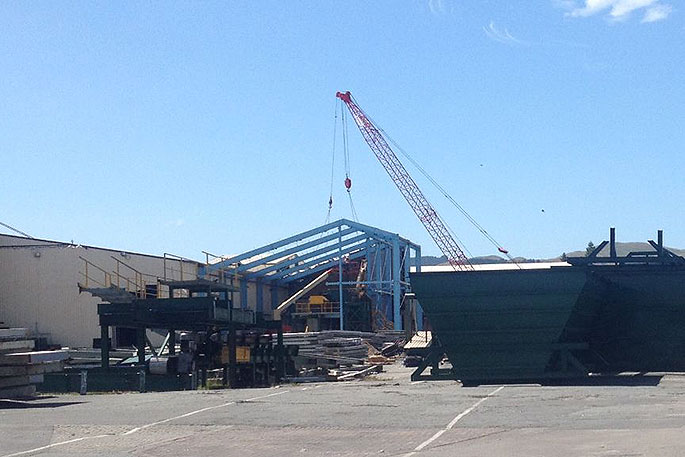 Lumbercube, the timber company which suddenly closed its doors three years, has begun dismantling its machinery and buildings in Rotorua.
This week the company, which caused grief in the well-to-do area of Lynmore with its noisy night operations, began pulling down its buildings.
The company, which owns Rotorua Trucking Haulage based across the road from the mill, closed its doors in Rotorua in 2016.
At least 80 employees lost their jobs.
Rather than blame the public outcry, let alone a breach of a local noise control bylaw, local district councillors Mark Gould and deputy mayor Dave Donaldson said at the time the decision to shut the business was based on economics.
Public pressure manifested into 3400 complaints, many by prominent and influential Rotorua citizens. They formed the Eastside Community Association, specifically to deal with the noise.
From the time the ex-Tachikawa Mill opened with its new owners in 2015, complaints of stress and lack of sleep were received by the council.
Mark Gould was one councillor to attend every meeting organised by the citizens, with the rider he was unable to comment as a resident to avoid a conflict of interest. position.
"I felt I had to attend meetings for I was concerned for the people who lived in the area," says Mark.
"I recall that Lumbercube closed its doors suddenly – it was a surprise."
Many residents felt their eardrums throb with the low booms emitting from the mill each night. Modified, if inventive, a sort muffling was tried, without success as the noise at whatever levels continued to rent the night air.
In April last year, the council voted to "prevent another Lumbercube" with a plan change related to noise control, despite appropriate resource consents approved for the mill.
Reduced evening noise levels were introduced at the behest of the new association.
Some 130 complaints were lodged by residents in the first nine weeks of the mill opening in 2015. Apparatus used to monitor noise levels did not apparently show major distractions.
While noise at lower levels of Lynmore were hardly noticed, the levels rose during the night in areas well above the homes on the flatter reaches of Lake Rotorua east.
The issue led to a review of the district plan, but it took some doing.
Councillors were obliged to accept reports that the pulsating din from the mill were at acceptable levels.
It is also thought the issue led indirectly to at least one council casualty.
More on SunLive...