Sailors make strong start to Miami World Cup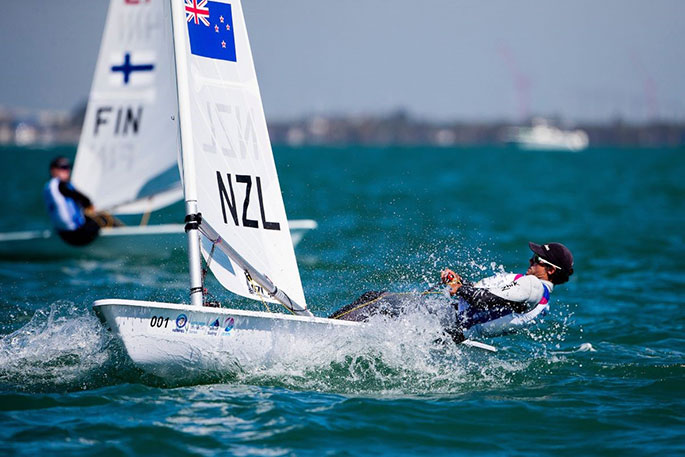 Tauranga's Sam Meech has a goal of being in contention for a medal at every event he competes in and he gave himself a good chance of doing that at the World Cup regatta in Miami today.
The world's No 1-ranked Laser sailor opened the Miami event with a first and second in his two races to lead by one point over Norway's Hermann Tomasgaard.
Meech wasn't the only New Zealander to perform well on day one of the year's first World Cup regatta, with George Gautrey eighth, Josh Armit 15th and Tom Saunders 48th (he was third in his first race but disqualified from the second for being over the line at the start) in the Laser fleet.
Alex Maloney and Molly Meech were also second in the only race on the 49erFX course, finishing behind Great Britain's Sophie Weguelin and Sophie Ainsworth. No further racing was possible as the breeze and light faded in Miami.
Meech has made a habit of being near the front of the fleet over the past 18 months. In that period, he won his first World Cup regatta (Gamagori) and finished on the podium at Palma, the Laser Europeans and Hyeres and Enoshima World Cups.
Meech also led last year's sailing world championships for a number of days before having to settle for fourth.
"For me, it was a really good day," he says. "I had really good starts in both races and was on the right side of the major wind shifts.
"I missed one [wind shift] in both races but in the first race I managed to come back and in the second I couldn't quite catch the guy who won. It was a good start to the regatta."
The Laser class is typically the largest and there are 101 competitors in Miami, meaning they have been split into two fleets for the first two days of racing before the top half move into gold fleet.
Meech was joined by Gautrey and Armit in yellow fleet and the youngsters posted some good scores. Gautrey was second in the first race and Armit third in the second - Armit won last year's youth sailing world championships and is competing in his first World Cup regatta since moving up from the youth ranks.
"It was pretty fun to have both of them right up there as well and racing right next to them," says Meech.
The Lasers had been earmarked for three races but the wind didn't want to play ball.
The breeze had softened to around seven knots by the time the 49erFX fleet hit the race course and their chances of getting any more than one race completed were hampered by two general recalls for multiple boats over the start line.
"It was a long day for one race in light winds," says Maloney. "The FX fleet was eager to get into the regatta, maybe too keen with two general recalls before the real race got away.
"We sailed well and went for the pressure lines we saw to come away with a second place. It was the first race of the event and we have a lot more racing to play for."
The rest of New Zealand's top sailors are back in this country and will compete in the Oceanbridge NZL Sailing Regatta at the Royal Akarana Yacht Club starting on Friday.
Results after day 1 of the World Cup regatta in Miami today:
Laser (101 boats)
1st: Sam Meech (NZL) 1 2 - 3 points
2nd: Hermann Tomasgaard (NOR) 3 1 - 4 pts
3rd: Matt Wear (AUS) 5 4 - 9 pts
8th=: George Gautrey (NZL) 2 12 - 14 pts
15th: Josh Armit (NZL) 16 3 - 19 pts
48th: Tom Saunders (NZL) 3 52 BFD - 55 pts
49erFX (35 boats)
1st: Sophie Weguelin / Sophie Ainsworth (GBR) 1 - 1 pts
2nd: Alex Maloney / Molly Meech (NZL) 2 - 2 pts
3rd: Victoria Jurczok / Anika Lorenz (GER) 3 - 3 pts
Men's 470 (37 boats)
1st: Anton Dahlberg / Fredrik Bergstrom (SWE) 2 3 - 5 pts
2nd: Giacomo Ferrari / Giulio Calabro (ITA) 1 6 - 7 pts
3rd: Stuary McNay / David Hughes (USA) 3 5 - 8 pts
Women's 470 (28 boats)
1st: Agnieszka Skrzypulec / Charlie Bess (POL) 1 1 - 2 pts
2nd: Fabienne Oster / Anastasiya Winkel (GER) 4 4 - 8 pts
3rd: Benedetta de Salle / Alessandra Dubbini (ITA) 2 9 - 11 pts
49er (42 boats)
1st: Tim Fischer / Fabian Graf (GER) 4 7 - 11 pts
2nd: Nils Carstensen / Jan Frigge (GER) 5 8 - 13 pts
3rd: Sime Fantela / Mihovil Fantela (CRO) 3 13 - 16 pts
Finn (27 boats)
1st: Jonathan Lobert (FRA) 1 - 1 pt
2nd: Josip Olujic (CRO) 2 - 2 pts
3rd: Luke Muller (USA) 3 - 3 pts
Laser Radial (59 boats)
1st: Dongshuang Zhang (CHN) 1 - 1 pt
2nd: Zoe Thomson (AUS) 2 - 2 pts
3rd: Anee-Marie Rindom (DEN) 3 - 3 pts
Nacra 17 (27 boats)
1st: Samuel Albrecht / Gabriela Nicolino de Sa (BRA) 1 (7) 1 - 2 pts
2nd: Jason Waterhouse / Lisa Darmanin (AUS) (14) 1 4 - 5 pts
3rd: Iker Martinez de Lizarduy / Olga Maslivets (ESP) 2 3 (6) - 5 pts
Men's RS:X (54 boards)
1st: Angel Granda-Roque (ESP) 8 1 - 9 pts
2nd: Bing Ye (CHN_ 5 4 - 9 pts
3rd: Pawel Tarnowski (POL) 2 9 - 11 pts
Women's RS:X (41 boards)
1st: Yunxiu Lu (CHN) 1 - 1 pt
2nd: Flavia Tartaglini (ITA) 2 - 2 pts
3rd: Yarden Isaak (ISR) 3 - 3 pts
More on SunLive...