What's On: 30 plus degrees and cricket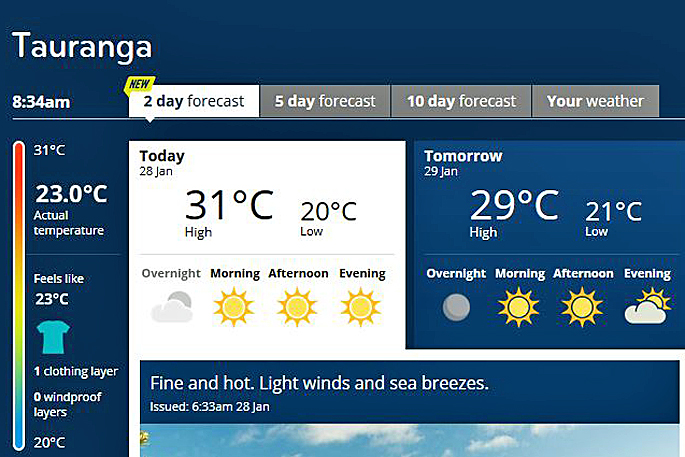 Good Morning SunLive readers, I hope you are enjoying the extra day added to your weekend and are making the most of it.
Today is looking to be a very hot day, so make sure you drink plenty of water and use plenty of sunscreen. Also make sure that there is plenty of shade about, not only for yourself, but for your pets as they will be feeling the heat as well.
Looking at your weather for today, it is going to be fine and hot. There will also be some light winds and some sea breezes.
Your high for today will be 31 degrees with an overnight low of 20 degrees.
Looking at the weather for Tuesday it will be a sunny and hot day with some evening cloud. The high will be 29 degrees.
If you are looking for something to get you out and about today, the 3rd ODI of Blackcaps versus India is happening at Bay Oval today.
The cricket starts at 3pm and is a great way to spend your Monday evening before you go back to work tomorrow.
For more information, click here:
To find out what else is happening around the Bay today, check out the What's On listings below:
Monday 28 January:
Achieve Toastmasters
Meets 1st 3rd & 5th Monday at St Stephens Church Hall Brookfield Tce Tauranga 7:30pm-9:30pm. Ph Frank/Chrissy 543 9493 or 027 296 7939
---
Adult Social Ballroom/Latin Dance
Free Introductory Beginner Dance Lesson 4th Feb 7pm Club Mt Maunganui. Partner not necessary,Just come along! Ph Dean Smith 021 230 3187 www.udance2.co.nz
---
Alcoholics Anonymous
Open meeting 10am. Tauranga Central Baptist Church,13th Ave/Cameron Rd. All welcome. Ph 0800 229 6757
---
Argentine Tango
A close-embrace dance that will change your life! Come on guys meet friendly young dancers to walk this 'journey'. Ph/Txt 020 4006 1340
---
Art Exhibition Waihi
Studio Art Waihi presents their annual exhibition at Waihi Memorial Hall. 10am-4pm. Guest Artists Hauraki Wood Turners.
---
Chess At Mount Maunganui
Mount RSA Chess Club, 544 Maunganui Rd, 6-7pm during school term. Late program 7pm onwards. Incl casual games. Noel 579 5412
---
Citizens Advice Bureau Tauranga
Free confidential impartial information & advice. Don't know? Ask us! Ph or visit us at 38 Hamilton St Tauranga Mon-Fri 9am-5pm 07 578 1592 or 0800 367 222
---
Free Diabetes Clinic
Call in 10-12 to see our Diabetes Nurse Educator. The Diabetes Centre @ Graced, 174 11th Ave, Tauranga. INFOLine 0278 830 158
---
Genies Unbottled Experienced Dancers
Renew your joy of dance at 7pm. Casual classes by koha (donation). Ph Linley 027 286 3452 or 552 4352 or through facebook.
---
Harmony-A-Plenty Barbershop Chorus
Our Chorus teaches you to sing & enjoy a great craft. Meets 7pm, 183 Moffatt Rd, Bethlehem. Ph Gordon 07 576 5008. Welcomes new members.
---
Heart Support Exercise Group
Strength, balance, cardio for seniors. Fun with exercise at City Church Otumoetai Rd. Low intensity class 11am & more advanced class 9:30am.
---
Indoor Bowling
St Columba Indoor Bowling Club, 502 Otumoetai Rd, Cherrywood. Year starts 4 Feb. All playing levels welcome 7:30pm start, names in by 7:15pm. Ph Paul 576 6324
---
Multicultural English Classes
English classes for all visa holders on Monday, Tuesday & Thursday morning 10am-12pm. Registration required to enquiries@trmc.co.nz or 07 571 6419
---
Multicultural Mandarin Classes
Monday conversational all levels Mandarin classes 6pm-7pm. Saturday academic classes 10am-12pm. Registration required to enquiries@trmc.co.nz
---
Narcotics Anonymous
Open meeting every Monday, 7-8pm, at Hillier Centre, 31 Gloucester Rd, Mt Maunganui. If using drugs is causing you problems ph 0800 NA TODAY
---
Old 4 New
Maketu Coastguard life jacket swap event Maketu Boat Ramp 1-4pm. Bring your old life jacket & trade in for a new one!
---
Recycled Teenagers Gentle Exercise
Mon/Wed Tga Senior Citz Club 14 Norris St. 9:15-10:45am. Tues St Marys Hall cnr Girven & Marlin 9-10:30. Jennifer 571 1411 or 027 206 0776
---
Tauranga City Brass
Practises at band room 10 Yatton St Greerton 7-9pm. Instruments available. Percussionists needed, ie. kit player. Ph Jeremy 021 132 3341
---
Tauranga Creative Fibre
Every Monday 9:30am, also 2nd & 4th Thursday 7pm. Learn/share spinning, weaving, felting, knitting, crochet & all things fibre. 177 Elizabeth St. Margaret 571 3483
---
Tauranga Senior Citizens Club
CARDS 500 Mon & Thurs. INDOOR BOWLS Tues,Wed & Sat, 14 Norris St (behind Pak n Save) 12:45pm for 1pm start. Entry $2 includes afternoon tea. New members welcome.
---
Tauranga Vision Friendship Club
For retirees. Friendship, speakers, outings, social gatherings. Meets 4th Monday each month 10am at Citizens Club. Ph Bryan 570 2483
---
Yoga, Private Sessions
Feel uncomfortable in a group setting? or have a disability? I am a registered health professional with 28 years yoga teaching experience. Asunta 0210 614 394
More on SunLive...